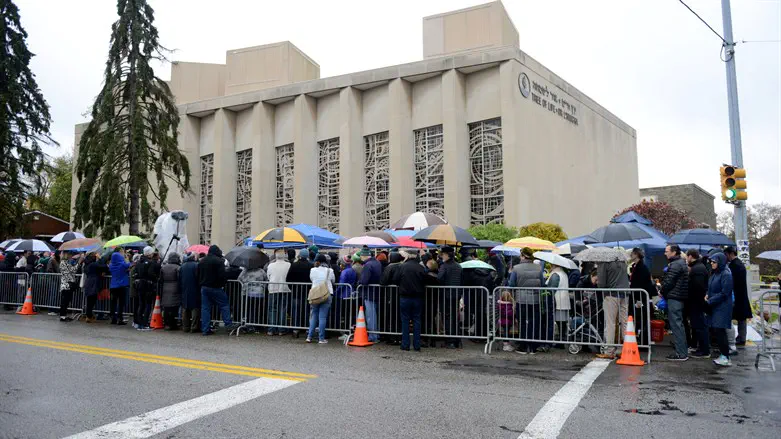 Tree of Life Synagogue in Pittsburgh
Reuters
Robert Bowers, who is on trial for massacring 11 Jewish worshippers at the Tree of Life synagogue in Pittsburgh, Pennsylvania in 2018, methodically tracked down his victims, prosecutors said in opening arguments Tuesday, according to AFP.
Bowers, 50, faces the death penalty if convicted of opening fire inside the synagogue in Pittsburgh on October 27, 2018.
The former truck driver, of the Pittsburgh suburb of Baldwin, is charged with 63 criminal counts in the killings of 11 worshippers at the building where three congregations had gathered.
The charges include 11 counts of obstruction of free exercise of religion resulting in death and 11 counts of hate crimes resulting in death.
Bowers was armed with an AR-15 and three handguns and allegedly yelled "I want to kill all Jews" during the attack.
A federal prosecutor told the court on Tuesday that Bowers "methodically" tracked down his victims and shot many of them multiple times and at close range.
"Once he entered the synagogue the defendant began to hunt, he moved from room to room, upstairs and downstairs... looking for Jewish worshippers to kill," prosecutor Soo Song was quoted as having said.
Bowers was initially indicted on 44 counts. In January of 2019, a federal grand jury added 19 charges to the 44 counts previously levied against Bowers. He has pleaded not guilty to all 63 federal counts.
Earlier this month, a judge ruled against a defense motion that challenged the government's pursuit of the death penalty for Bowers, if convicted.
Bowers' defense team has argued that the defendant suffers from schizophrenia. They offered a guilty plea in exchange for life in prison, which was rejected by the prosecution.