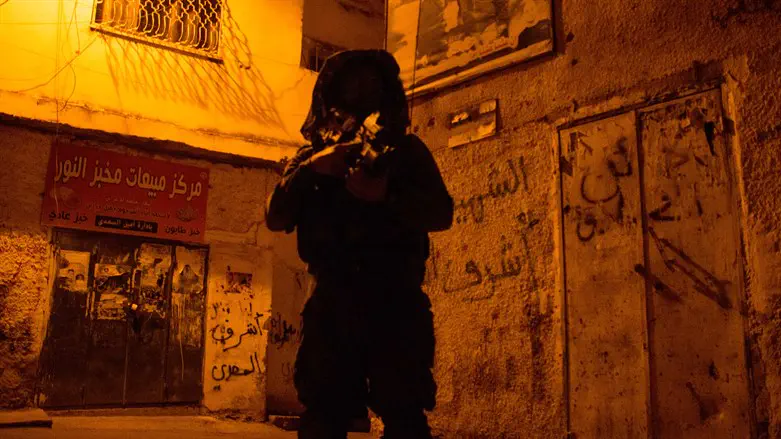 IDF soldier in Jenin (archive)
IDF Spokesperson/Flash 90
A Palestinian Authority intelligence officer was killed during an Israeli operation in Jenin Monday morning, according to PA media outlets.
Israeli security forces entered the PA-administered city of Jenin early Monday morning, arresting six wanted terror suspects following a string of attacks across Samaria Sunday.
During the Israeli operation, clashes broke out as Arab rioters attacked IDF forces.
The PA mouthpiece WAFA claimed that eight rioters were shot during the clashes.
One of them, identified as Ashraf Ibrahim, eventually succumbed to his wounds and was pronounced dead after being evacuated to the Al-Razi Hospital in Jenin.
Ibrahim, 37, had worked for the Palestinian General Intelligence Service prior to his death.
A long-time member of the Fatah organization, Ibrahim had spent 11 years in Israeli prisons over his support for terrorism, before being released in 2019.
Following Ibrahim's death, Jenin declared a general strike.
The security sweep in Jenin came after three separate terror attacks were reported across Samaria.
In the first attack, terrorists fired shots at the town of Mevo Dotan in northern Samaria, hitting a Palestinian vehicle parked at the entrance to the town.
Later, terrorists from Jenin opened fire at the town of Gan Ner in the Gilboa region, just north of Green Line separating Samaria from pre-1967 Israel.
One home was damaged, and a bullet was found at the scene. There were no casualties.
Israeli security officials suspect the two shooting attacks may have been carried out by the same terror cell.
On Sunday night, IDF soldiers on patrol in the Binyamin district of Samaria spotted a terrorist placing an explosive device on the Alon Road (Route 458), near the village of Al-Mughayyir.
Soldiers opened fire on the terrorist and called in sappers to defuse the bomb.