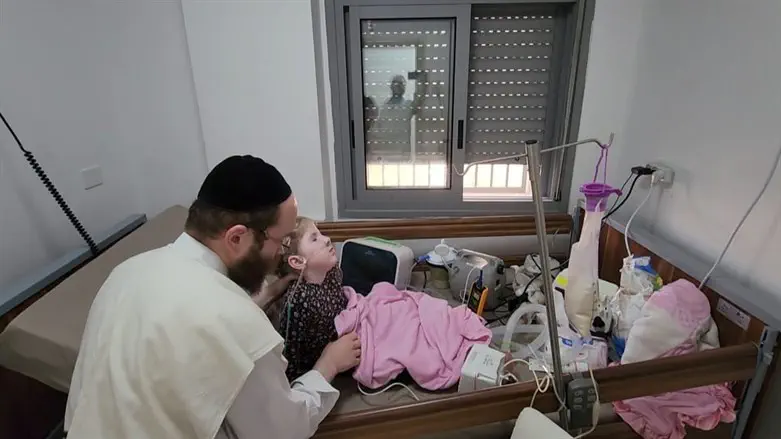 Chaya
צילום: אביאור
In a heart-wrenching plea for assistance, a family is reaching out to the community for support in their desperate battle to save the life of their beloved 4-and-a-half-year-old daughter, Chaya. Afflicted with cerebral palsy, epilepsy, and breathing difficulties, Chaya requires constant supervision and medical care to ensure her safety.
The devoted parents of Chaya, are facing an unimaginable ordeal. They spend every waking moment at their daughter's bedside, attentively monitoring her condition and suctioning the saliva from her mouth to prevent any potential choking hazards. However, the toll of their ongoing struggle has pushed them to the brink of collapse, both emotionally and financially.
The exorbitant cost of Chaya's medical treatments has left the family in dire straits. Unable to work due to the demanding nature of Chaya's condition, the couple finds themselves unable to provide for their three other children. As a result, they have accumulated substantial debts, reaching hundreds of thousands of shekels, further exacerbating their already overwhelming burden.
The family is now turning to the community for compassion and support in their time of need. They appeal to the public, hoping to receive the necessary assistance to alleviate their financial strain and continue providing the lifesaving care Chaya desperately requires.
The parents express their deepest gratitude for any help received, emphasizing that every contribution, no matter how small, can make a significant difference. They offer their heartfelt blessings to those who lend a helping hand, wishing them health, joy, and happiness.
To facilitate contributions, the family assures potential donors that all contributions are tax-deductible under the 501(c)(3) nonprofit status.
Let us rally together to provide hope and support to this courageous family in their race against time to save Chaya's life. Your generosity and compassion can bring light to their darkest moments.
Chaya's life
Avior inc