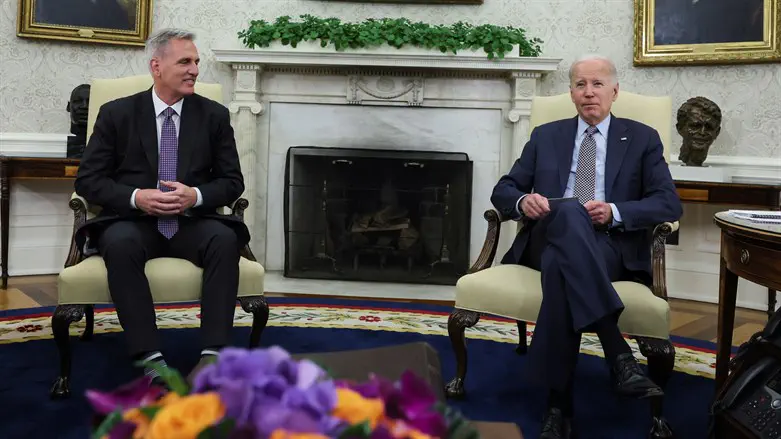 Kevin McCarthy and Joe Biden
REUTERS/Leah Millis
Negotiators for US President Joe Biden and Republican congressional leaders on Saturday night reached an 11th-hour agreement in principle to raise the debt ceiling, House Speaker Kevin McCarthy confirmed, according to CBS News.
Both sides came to the tentative agreement after weeks of delays that rattled markets and raised fears about a catastrophic default.
Biden and McCarthy had spoken by phone earlier Saturday evening, CBS News learned, after hours of marathon negotiations.
"I just got off the phone with the president a bit ago," McCarthy tweeted. "After he wasted time and refused to negotiate for months, we've come to an agreement in principle that is worthy of the American people."
McCarthy had been at the Capitol all weekend, and he told reporters Saturday morning that he was "optimistic" a deal would be reached.
CBS News learned that the agreement raises the debt limit for two years and keep non-defense spending flat, at 2023 fiscal year levels, for two years as well. Non-defense spending would then increase by 1% in the 2025 fiscal year.
The deal also fully funds medical care for veterans, including the PACT Act, which was passed last year and expands benefits to 3.5 million veterans who have been exposed to toxic burn pits during wartime, according to the report.
The breakthrough came just days before the government was expected to exhaust the ability to pay its bills, an unprecedented event that would send shockwaves through the global economy. Treasury Secretary Janet Yellen on Friday pushed back the estimated deadline on the so-called "x-date" from June 1 to June 5, giving negotiators some breathing room.
Republican House leadership were expected hold a conference call on Saturday night for an update on the negotiations, two sources familiar with the talks told CBS News.
Democrats will be briefed by White House officials in a virtual meeting on Sunday, according to a notice that was circulated and obtained by NBC News.
McCarthy on Saturday night refrained detailing the agreement, saying he wants to talk to his members first.
However, he offered a brief summary, saying, "It has historic reductions in spending, consequential reforms that will lift people out of poverty into the workforce, reign in government overreach. There are no new taxes, no new government programs. There's a lot more within the bill."
McCarthy also said the House will vote on the agreement on Wednesday.