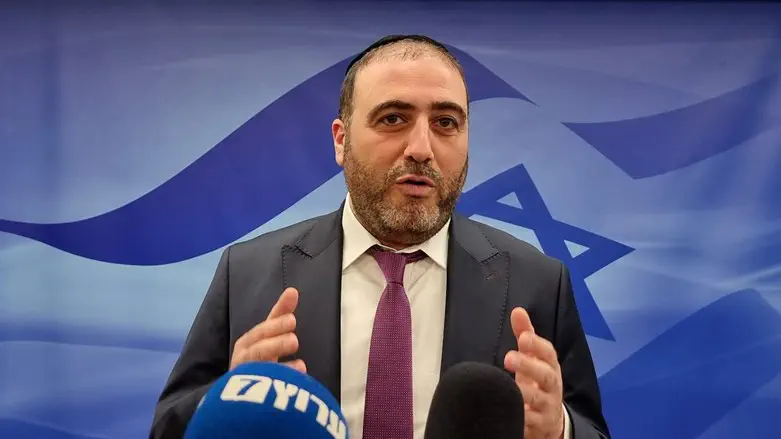 Moshe Arbel
Arutz Sheva
Interior Minister and Health Minister Moshe Arbel (Shas) insists that the judicial reform must pass with broad support, so that the next government will not cancel it.
Referring to the previous Religious Affairs Minister, MK Matan Kahana (National Unity), Arbel told Makor Rishon, "Kahana came with a far-reaching reform, he insisted and bragged, and what came of it? When the government changed, the first thing we did was cancel it. We will not be in the coalition forever, and if we want the decisions that we make to be long-term, we need to reach a broad consensus, not make decisions by force."
"Not always is the full extent of understanding ours alone," he said. "We need to remember something very central: Despite the fact that we are members of the coalition, we are still a minority in the country - the haredi community is a minority, and sometimes we need to act with humility and modesty, as a minority, and avoid conflict."
When asked about his party head, MK Aryeh Deri, who Arbel replaced in the Interior and Health ministries, Arbel said, "I say clearly: The one who makes decisions on both ministries is me, for better or for worse. At the same time, I will not hide this: I ask his advice a lot, and I see great value in asking the advice of someone who has so many years of experience in the public system and in the Interior Ministry. What he has already forgotten, I have not yet learned."
In January, Kahana told 103FM Radio, "The situation as it stands today does need fixing; it's a situation in which the Supreme Court Justices have a surfeit of power. But what [Justice Minister] Yariv Levin intends to do is lead a government revolution in this area, taking all the power within the judiciary and transferring it to the government."
"In the end, the fate of this legislation will be the exact same fate of the reforms to the kosher supervision laws [which Kahana began to implement during the previous government's term]. The opposition will come along and cancel it all [when it regains power]."