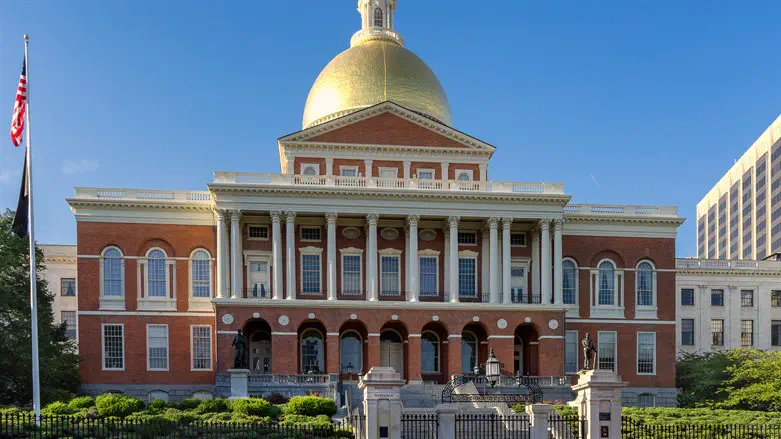 State House in Boston, Massachusetts
iStock
A new report by the ADL Center on Extremism, Hate in the Bay State: Extremism & Antisemitism in Massachusetts 2021-2022, found that over the last two years, extremist activity in Massachusetts has significantly increased.
The increase mirrors that of the trend across the US, ADL warned, noting that Massachusetts has "seen white supremacists – including the Nationalist Social Club – increasingly make their presence known."
The state has also reported extensive propaganda distribution efforts, especially by Patriot Front, which ADL describes as a white supremacist organization whose members "maintain that their ancestors conquered America and bequeathed it to them, and no one else" and who justifies its hateful ideology "under the guise of preserving the ethnic and cultural origins of its members' European ancestors." The group spreads far-right propaganda using online tools, and also through banners, flyers, posters and stickers.
The surge in far-right groups in the state resulted in Massachusetts having the second-highest number of extremist propaganda incidents in the US in 2022.
During the last two years, Massachusetts saw a "dramatic rise in antisemitic incidents," according to ADL's annual Audit of Antisemitic Incidents. The number increased 41 percent in 2022 over the previous year, rising rom 108 to 152. A similar increase occurred between 2020 and 2021, with incidents jumping from 73 to 108.
The FBI warned that there were 412 reported hate crimes in the state in 202, an increase of 33 percent over 2020. ADL pointed out that Massachusetts had the sixth-highest number of reported antisemitic incidents in 2022, with 152. These included a high percentage of incidents of vandalism and harassment.
Over 70 cities in the state experienced at least one antisemitic incident in 2022, up from 54 town in 2021, including antisemitic assaults.
The report also highlighted the fact that the "notoriously antisemitic" Nation of Islam has opened multiple local chapters across the state, including in Boston and Springfield.
"Both the Boston and Springfield chapters amplify the NOI's characteristic antisemitism and bigotry in their online and on-the-ground activities," ADL said. "Despite the Nation of Islam's well-established record of bigotry and antisemitism, the NOI's Massachusetts chapters – like many of the group's chapters across the country – are sometimes supported by elected officials, interfaith coalitions or other mainstream sources, particularly around the NOI's community-focused initiatives."
In response to the report's findings, ADL advocated "for a range of policies and activities that can help address antisemitism, hate and extremism while preserving civil liberties."
Addressing the state of Massachusetts, ADL urged the implementation of four policies by lawmakers to fight the increase in hate: protecting individuals from online hate and harassment; holding social media platforms accountable; strengthening hate crime reporting and response; and protecting civil rights.