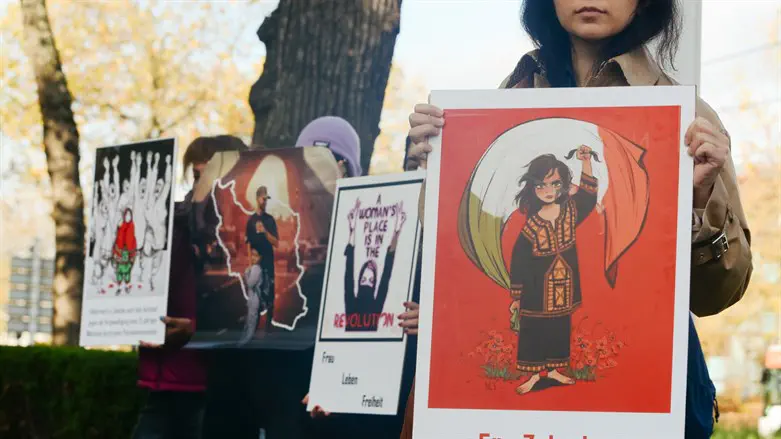 Iranian protests
REUTERS
The grave of Mahsa Amini, the 22-year-old woman who was killed last year while in the custody of Iran's morality police, was damaged by vandals on Sunday for the second time in the last few months, BBC News reported.
Photos provided by her family showed a smashed glass pane covering the grave and also damage to a portrait of the young woman, whose death sparked months of anti-government protests.
Amini's brother said on Instagram that it was the second recent time the grave had been subjected to vandalism.
Ashkan Amini did not directly blame the regime, but wrote: "Even the glass of your tombstone bothers them."
"No matter how many times they break it, we will fix it. Let's see who gets tired first," he added.
The family's lawyer, Saleh Nirbakht, released an audio message in which he confirmed that Amini's grave was defaced on Sunday by vandals "known for such distasteful actions in the past."
He also blamed officials for refusing to let the family place a protective barrier over the grave, describing that a local welder's livelihood was threatened if he agreed to take on the job.
Amini was arrested by Iranian "morality police" in Tehran in September after traveling there from the Kurdistan region. She was beaten during the arrest and fell into a coma shortly thereafter.
Her death led to months of fierce protests against the regime's human rights abuses, especially against women, leading to mass arrests, including the handing down of death sentences.
On Friday, Iran executed three men convicted of killing security force members during the protests triggered by Amini's death last year, drawing condemnation from Western governments, AFP reported.
Friday's hangings bring to seven the total number of Iranians executed in connection with the demonstrations. The executions occurred despite appeals by the US for Iran not to go through with the death sentences.
The European Union condemned the executions "in the strongest possible terms", foreign policy chief Josep Borrell said in a statement quoted by AFP.