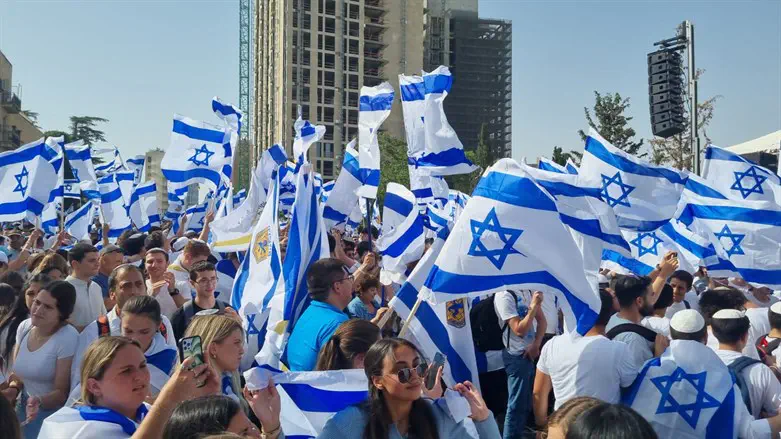 The Jerusalem Day Flag March
Israel National News
Prime Minister Benjamin Netanyahu has ordered to hold the annual Jerusalem Day flag march on its traditional route, which passes through Jerusalem's Muslim Quarter, and even asked that the decision be published as early as possible to maintain clarity, Israel Hayom reported.
Despite the security tension, the document discussed in the Security Cabinet on Tuesday stated that "this is not a dramatic decision, but the continuation of the norm in a sovereign state. Just as the sun rises every morning, the march will continue as always."
Both defense establishment and political sources assume the march will occur as usual, despite Operation Shield and Arrow, since those sources estimated yesterday that the end of the operation is near.
"An unequivocal order was given to hold the march as planned. There is no right to veto, and a Hamas threat can't tell us if and where to march in Jerusalem," said a source who was present at the cabinet meeting.
The police, led by National Security Minister Itamar Ben-Gvir, were ordered to summarize the security arrangements needed to ensure the marchers' security. The accepted assumption is that the terror organizations will not tie the current fighting with Jerusalem Day next week.
Yesterday the march organizers clarified that they intend to pass through the Old City's Damascus Gate as is done every year, despite the security escalation.