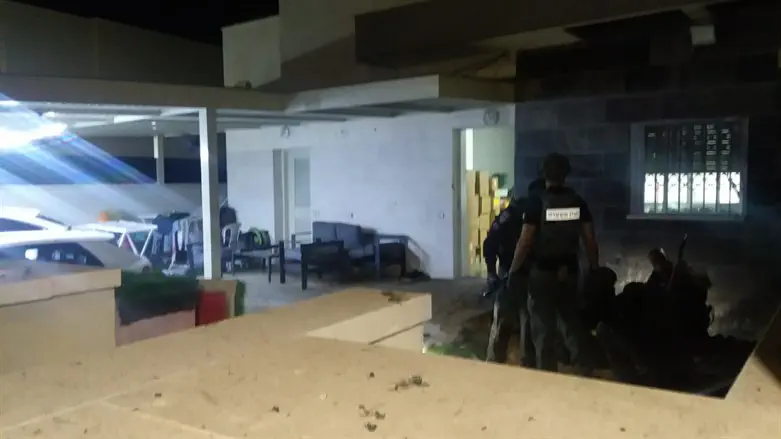 rocket strike in Sderot
Kobi Natan/TPS
Additional barrages of rockets have been fired at communities in southern and central Israel this evening (Wednesday) after Egyptian media reported that Egypt had brokered a ceasefire agreement between Israel and the terrorist organizations and the Gaza Strip which has already gone into effect.
Israeli officials have acknowledged that contacts have been made with the Egyptian government on the possibility of a ceasefire, but have not acknowledged that any agreement has been reached.
"Egypt approached us with a request for a cease-fire - the issue will be examined," Foreign Minister Eli Cohen said in an interview with Kan News.
At least 270 rockets were fired at Israel Wednesday afternoon before the reports of a ceasefire. Following the ceasefire reports, red alert sirens were activated in Tel Aviv, Be'er Sheva, Holon, Beit Dagan, Rishon LeZion, Ashkelon, Sderot, and more communities as terrorists fired more rockets at Israel.
One rocket struck a home in Sderot, and another struck a kindergarten in the Eshkol Regional Council. No injuries were reported in either incident as the buildings were empty. In the latest barrages, a rocket struck a yeshiva in Netivot and another a house in Ashkelon.
The David's Sling missile defense system performed its first-ever successful interception of a rocket in a combat situation when a rocket fired at Tel Aviv was shot down this afternoon.
IDF spokesman Brigadier General Daniel Hagari stated that the security establishment feels that the objectives of Operation Shield and Arrow have been achieved. "The purpose of the operation was to kill those senior Palestinian Islamic officials Jihad who presented a challenge to the security stability of the region. During the 48 hours of the operation, the following achievements were made: we attacked infrastructure targets of Islamic Jihad, we thwarted its rocket production capabilities, we thwarted its squads that intended to launch anti-tank missiles toward the State of Israel, we killed squads that intended to fire rockets and in the last few hours the Air Force planes have been attacking underground rocket launchers. Islamic Jihad fired in response at the territory of the State of Israel. 25% of its launches were unsuccessful and fell within the territory of the Gaza Strip."
According to Gen. Hagari, "The goals of the operation were achieved already in its first minutes. We in this operation acted in a targeted manner against Islamic Jihad. We attacked those who shot at us and we will continue to do so. Until there is an official announcement of a ceasefire, we will not discuss the matter and are strongly prepared for defense and attack."