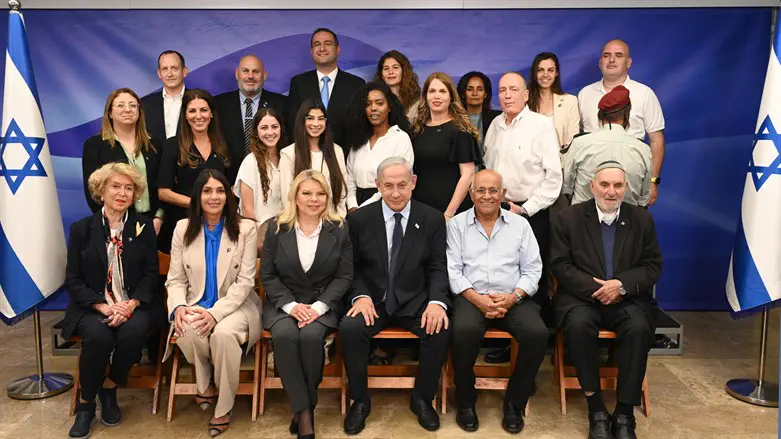 Netanyahu with the torchlighters
Haim Zach/GPO
Prime Minister Benjamin Netanyahu and his wife Sara, together with Minister Miri Regev, met on Wednesday with the torchlighters for the State of Israel's 75th Independence Day, at the Prime Minister's Office in Jerusalem.
Prime Minister Netanyahu said, "Happy are the people and the country that has people such as you. Happy are the soldiers that have commanders such as you."
"Your stories always – but especially now, at a time of internal debate and when there is an attempt to unravel Israeli society and the State of Israel, at least that is what our enemies think, they who talk of cobwebs and a crumbling state – I think they see and hear these stories and they understand. We will also see to it that they understand, that the complete opposite is happening," he added.
"I simply want to thank you, I want to say for your 'life's work', but there are young women who are just starting out in life, but for your life's work. Continue, learn from others. There is much to learn. There is much to be grateful for and appreciate. I want to thank you in advance on behalf of all citizens of Israel."
Sara Netanyahu, the Prime Minister's wife, said, "First of all, welcome. To the young people among you, I say that the moment you stand there and light the torches, you will remember it all your lives. You will tell it to your grandchildren. To those of you who are a little bit older, you will tell it now to your grandchildren, or to your great-grandchildren. This is the moment when the State of Israel takes off its hat and thanks you."
"I think, especially after all the things that we have seen, that here we see that which is unifying and that which is marvelous. It is so heartwarming to know that we have such an amazing country with this splendid mosaic."
Also attending the meeting were Mercaz Hahasbara (Center of Information) Director Moshik Aviv and members of the torchlighters selection committee.