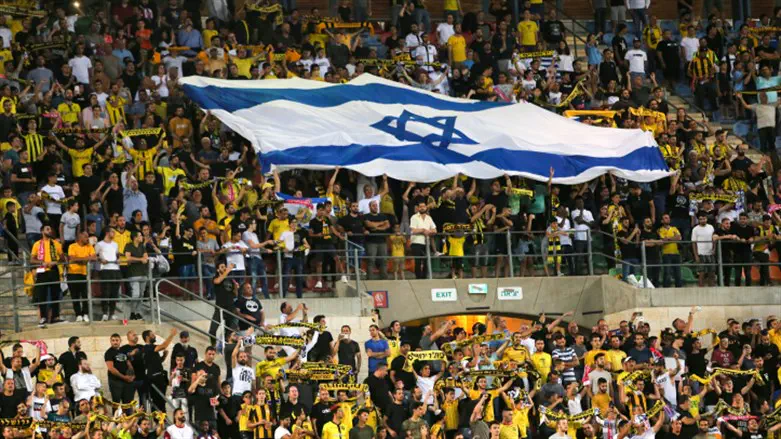 Beitar Jerusalem fans
Flash 90
Matches between the right-wing associated Beitar Jerusalem and Arab Bnei Sakhnin soccer clubs have always been tense, but on Sunday, the biggest rivalry in Israeli sports boiled over.
Sakhnin hosted Sunday's match with its rival in Petah Tikva, instead of the team's home pitch in northern Israel, due to sanctions on the club for its fans' violent behavior.
The match, which kicked off with Sakhnin fans lighting dozens of torches which endangered the players on the pitch, continued with the Beitar fans unfurling a banner in memory of Maia, Rina, and Lucy Dee, the mother, and daughters, murdered by Arab terrorists just over a week ago in the Jordan Valley.
After Sakhnin scored a goal, several Arab security guards taunted the fans from Jerusalem, who did not hold back and advanced toward them while threatening to respond to the taunts.
After Beitar fans entered the pitch, the game referee, Snir Levi, announced that the game would stop. At the same time, the large police force waiting outside the stadium was called in to restore peace between the Beitar fans and the security guards.
The Sakhnin players were afraid to resume play, and the team captain, Biram Kial, demanded his players retreat to the dressing room.
Beitar captain Orel Dagani asked his fans to return to their seats and concentrate on cheering on their team: "Let's keep the peace and beat them on the pitch." Team owner, Barak Avromov, proclaimed: "We're in a soccer match; calm down!"
In the end, play was restored, and Sakhnin scored an additional goal, but team captain, Biram Kial, was ejected after committing a severe and brutal foul on the Beitar captain Dagani. At the time of publication, Sakhnin leads Jerusalem 4-1.
The staunch rivalry has seen many violent incidents in the past. Both teams have been accused of political extremism; Beitar, more specifically the teams' La Familia fan group, has been accused of holding far-right and racist views, while the Sakhnin fan base openly supports the Palestinian cause and has even expressed support for terrorists and terror organizations.