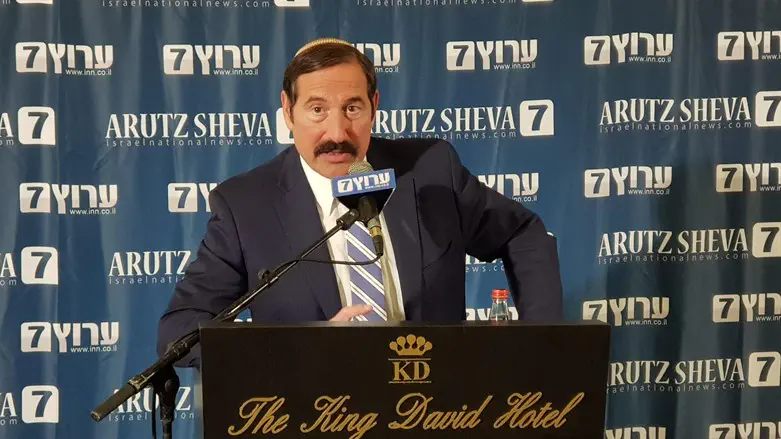 Dr. Joseph Frager
Arutz Sheva
At a recent event honoring and highlighting Minister of Heritage Amichai Eliyahu from the Otzma HaYehudi Party, Nassau County Executive Bruce Blakeman lamented the fact that Israeli officials rarely visit Nassau County. Nassau County should be one of the first places that the Netanyahu Coalition should think of visiting. Compared to Manhattan where most Israeli Ministers and MK's like to stay, Nassau County is much more homogeneous in its support of the current Israeli Government.
County Executive Bruce Blakeman is the most powerful elected Republican in New York State and is Jewish to boot. He is as Pro-Israel as any elected official in the United States. I traveled to Israel with the County Executive in 2014 and I saw his love of Israel. He visited throughout Judea and Samaria extensively. He made sure to meet with both Ashkenazic and Sephardic Chief Rabbis.
Dep. Consul Gen. in NY Israel Nitzan, Amichai Eliyahu, Bruce Blakeman and Rabbi Duvid Katz
Photo: Shimon Gifter
New York State hosts the largest Jewish Population in the United States. The Jewish population has actually grown to 1,086,000 in the New York City area (Brooklyn, Bronx, Queens and Manhattan)from 972,000 in 2001. Another 452,000 Jews live in Nassau, Suffolk and Westchester. It is estimated that there are between 5.7 million to 10 million Jews in America. California is second to New York with 1.19 million Jews. Florida is third with 657,095 but is growing rapidly. Nassau County is estimated to have close to 300,000 Jews and is also expanding. The majority of Jews in Nassau County are Orthodox and hold Conservative views. The elections of Bruce Blakeman as County Executive, and Congressman Anthony D'esposito are testimony.
Israel's supporters especially of the present coalition should make Nassau County a first-stop destination for Israeli diplomats especially since it is so close to Kennedy Airport. I fully expect more Israeli officials will come to Nassau County more than ever before. It's a win win situation.