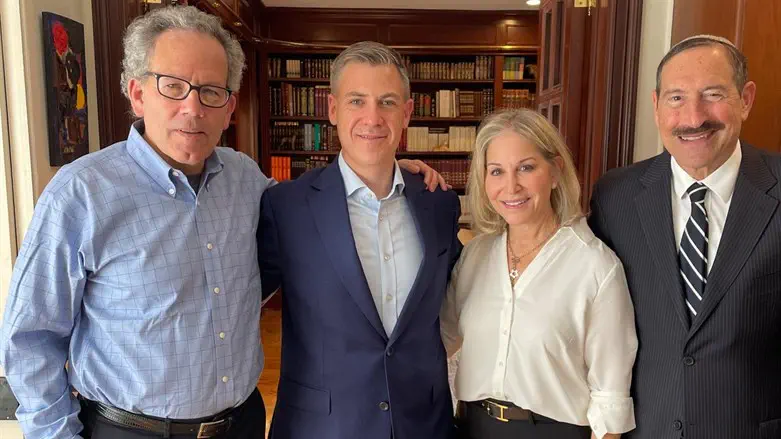 Left to Right Stanley Stern, Jim Banks, Trudy Stern, Joseph Frager
Courtesy
It is always gratifying to witness the rise of an American political figure, especially one who is a great friend of Israel and the Jewish people.
I had the opportunity to meet one such person thanks to Stanley and Trudy Stern of Lawrence and Dr. Ben Chouake's NORPAC.
Congressman Jim Banks of Indiana's 3rd District is in his 4th term and has declared his candidacy for the Senate.

Congressman Banks served as a reservist in the U.S Navy deployed in Kabul in 2014 for 8 months while a State Senator. His wife Amanda who's Maiden name was Amanda Izsak was raised Jewish and served as State Senator in his stead. On his website he lists support for Israel as one of his top ten most important issues.
Congressman Banks said, "The stronger Israel is the better off America is. I believe anything America can do to further support a strong Israel is the greatest deterrent to those who aren't acting in the best interest of America and creating havoc in that part of the world."
He serves on the House Committee on Armed Services, the House Committee on Education and the Workforce House Select Committee on the strategic competition between the United States and the Chinese Communist Party.
He also is a leader of the Anti-woke caucus and as such believes that, " so called 'equity action plans' are rooted in discrimination, promote division and directly conflict with American values." He also says, " the most toxic part of this tyranny is its doctrine-'wokeness '."
Congressman Banks declared his candidacy for the Senate when current Senator Mike Braun decided to run for Governor of Indiana. Initially, former Governor of Indiana Mitch Daniels seemed poised to oppose Congressman Banks in the Republican Primary.
However, after NRSC Chairman Steve Daines got behind Congressman Banks, Mitch Daniel's decided not to run.
In Steve Daines' words, "I'm looking forward to working with one of our top recruits this cycle to keep Indiana red in 2024." President Trump won Indiana by nearly 20% in 2020.
Congressman Banks wrote on Twitter about the indictment of President Trump,
"The sham indictment of President Trump is the latest example of the radical Left's egregious double standard when it comes to the rule of law. A blatant political attack under the guise of justice while they let criminals run free."
Currently, Congressman Jim Banks is running unopposed. He looks very much a lock on the Senate. He will be a voice to be reckoned with. He will help bring America back from the brink.