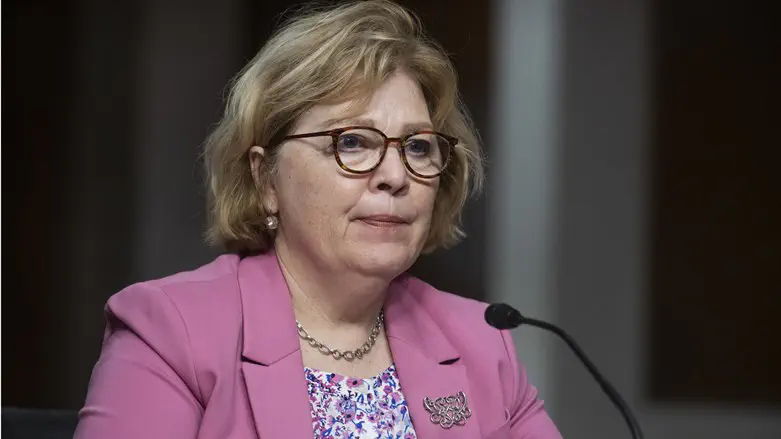 Barbara Leaf
Rod Lamkey/CNP/Sipa USA via Reuters Connect
A senior Biden administration official on Thursday warned that Israel's burgeoning allies in the Middle East are concerned that domestic tensions surrounding the judicial reform are a distraction from addressing tensions during Ramadan.
"Leaders across the region have expressed their concerns to me regularly about the insecurity and instability in the West Bank," Barbara Leaf, the State Department's top ranking Middle East diplomat, said in a briefing, according to Haaretz.
She added that "the complete distraction that was inevitable during these last weeks and last three months would also mean there was a distraction away from urgent issues that need addressing in terms of Palestinians in the West Bank."
Leaf, who has been part of the team of US officials working to put a lid on tensions ahead of the month of Ramadan, argued that Israel's ability to manage the situation in Judea and Samaria has been "compromised somewhat by public protest and disagreement over the judicial restructuring plan."
She acknowledged that "both parties have shown a real seriousness of intent" following recent summits in Aqaba, Jordan and in Sharm el-Sheikh, Egypt, but warned "facts on the ground and activities often get in the way of the best intentions."
Leaf's comments came as the US and Israel sought to lower tensions over the judicial reform. The tensions rose after President Joe Biden offered very harsh criticism of Israel, saying he is "very concerned" about the goings on in light of the judicial reform and adding, "They cannot continue down this road."
Biden also added he will not be inviting Prime Minister Benjamin Netanyahu to the White House in the near term.
Netanyahu later responded to Biden and said, "The alliance between Israel and the United States is unbreakable and always overcomes the occasional disagreements between us."
He also stressed that "Israel is a sovereign country which makes its decisions by the will of its people and not based on pressures from abroad, including from the best of friends."
Foreign Minister Eli Cohen later began briefing influential American officials about the government's judicial reform plan and committed that it will be reached through a widespread agreement.
On Thursday, Cohen spoke to US Secretary of State Antony Blinken.
The Foreign Ministry said in a statement that the two discussed the negotiations in Israel regarding the judicial reform, and that Minister Cohen told Blinken that he was "proud to be a citizen and minister in a country like Israel that allows freedom of protest as it exists in the country."