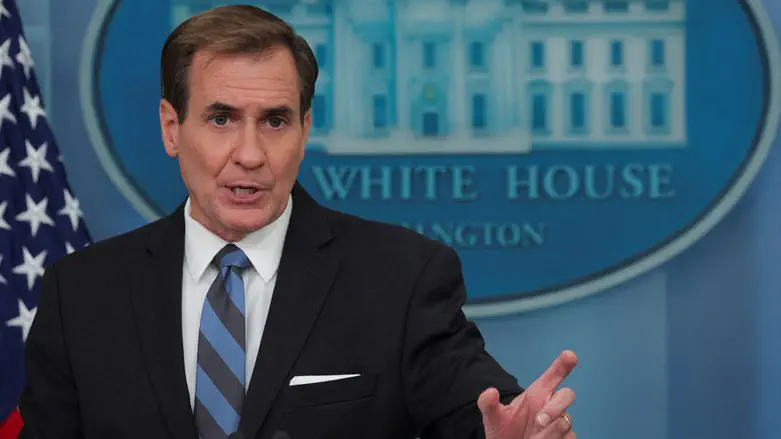 John Kirby
REUTERS/Jim Bourg
US National Security Council spokesman John Kirby commented today (Wednesday) on the tensions between the US and Israel over the Biden Administration's interference in Israel's domestic policy regarding the Israeli government's planned judicial reforms.
During a press briefing at the White House, Kirby praised Netanyahu's address to the the virtual US State Department Summit for Democracy 2023, which was held today.
"There is a lot to like about [Netanyahu's statement]. He talked about searching for a compromise. He talked about working towards building a consensus here with respect to these potential judicial reforms," said Kirby.
"He talked about how unshakeable he knows the relationship is between the United States and Israel, and he talked about his great respect for President Biden. That's a respect that President Biden shares as well. These two gentlemen have known each other for 40-some-odd years. The great thing about friends - I'm sure you all have friends and you don't always agree with everything your friend does or says - the great thing about a deep friendship is you can be that candid with one another," he added.
When asked about the angry reaction of some Israeli official sat pressure from the Biden Administration on the judicial reform issue, Kirby said: "Israel is a democracy and a sovereign state, of course. And sovereign states make sovereign decisions."
"Our whole point about this and our whole concern is that we'd like to see decisions made there with a good friend like Israel, that are in keeping with consensus and that can be done with the broadest possible base of public support. Because that's one of the key components of a democracy, and Israel is a democracy. It's one of the great things that our two countries share, some basic fundamental democratic institutions and principles," he said.
On Tuesday, Biden said: "Like many strong supporters of Israel, I'm very concerned. I'm concerned that they get this straight. They cannot continue down this road. I've sort of made that clear."
Biden's comments were condemned in Israel as undue interference in Israeli domestic politics.
Prime Minister Netanyahu said in response to Biden's comments: "I have known President Biden for over 40 years, and I appreciate his longstanding commitment to Israel. The alliance between Israel and the United States is unbreakable and always overcomes the occasional disagreements between us."
"My administration is committed to strengthening democracy by restoring the proper balance between the three branches of government, which we are striving to achieve via a broad consensus," he added. "Israel is a sovereign country which makes its decisions by the will of its people and not based on pressures from abroad, including from the best of friends."
National Security Minister Itamar Ben-Gvir was more scathing in his criticism of President Biden.
"We respect the democratic system there [in the US], but… they need to understand that Israel is an independent country and not just another star on the American flag," Ben-Gvir told Galei Tzahal.
"It needs to be clear to countries around the world, the people here had an election and expressed their will."
Education Minister Yoav Kisch (Likud) also responded to Biden's comments, telling Kan Reshet Bet: "We all respect the American president, he can say what his position is regarding any issue involving Israel."
"But with all due respect, Israel is a sovereign nation and it makes its decisions here. There can be American criticism, but the decisions are our own."