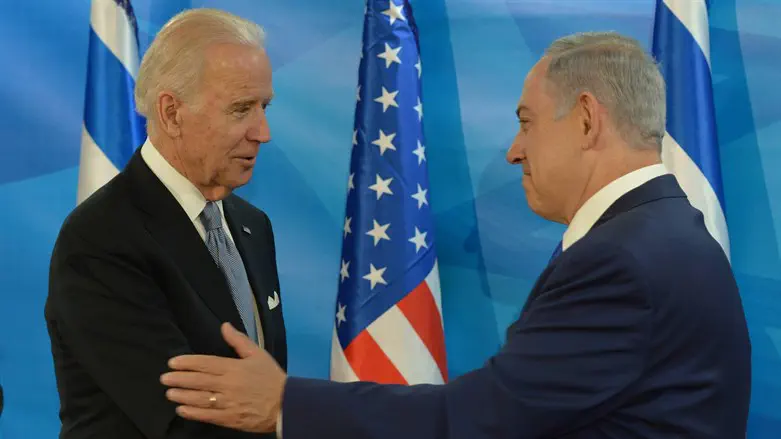 Biden and Netanyahu
Amos Ben Gershom/GPO
Prime Minister Benjamin Netanyahu responded on Tuesday night to President Joe Biden's criticism of what is happening in Israel.
"I have known President Biden for over 40 years, and I appreciate his longstanding commitment to Israel. The alliance between Israel and the United States is unbreakable and always overcomes the occasional disagreements between us," said Netanyahu.
"My administration is committed to strengthening democracy by restoring the proper balance between the three branches of government, which we are striving to achieve via a broad consensus," he added.
"Israel is a sovereign country which makes its decisions by the will of its people and not based on pressures from abroad, including from the best of friends," stressed Netanyahu.
Netanyahu's response came after Biden commented on the recent goings on in Israel earlier on Tuesday and said, "Like many strong supporters of Israel, I'm very concerned. I'm concerned that they get this straight. They cannot continue down this road. I've sort of made that clear."
Biden also added he will not be inviting Prime Minister Benjamin Netanyahu to the White House in the near term.
Later on Tuesday, as he was returning to the White House, Biden was again asked about Israel's judicial reform and said "they got to work it out."
He was then asked what he hopes Netanyahu will do regarding the judicial reform and replied, "I hope he walks away from it."
Culture and Sport Minister Miki Zohar responded to the US President's statement and wrote on Twitter, "It is sad that President Biden also fell victim to fake news spread in Israel against our justified judicial reform."
Zohar subsequently deleted the tweet and explained, "Out of respect for our important relationship with our greatest ally, the United States, I deleted the tweet."
Previously, a spokesperson for the US National Security Council commented on US Ambassador to Israel Thomas Nides' statement that Netanyahu would soon be invited to the White House to meet Biden.
"As Ambassador Nides said, there is no plan for Prime Minister Netanyahu to visit Washington. Israeli leaders have a long tradition of visiting Washington, and Prime Minister Netanyahu will likely visit at some point," the official said.
Nides was interviewed on Galei Tzahal (IDF Radio) following Netanyahu's announcement that the government's planned judicial reform legislation would be frozen until the next Knesset session.
"I slept well last night," Nides said. "I congratulate the Prime Minister on the announcement. As President Biden has said several times, we are in favor of compromise and dialogue."
He said that Netanyahu will be invited to the White House in the near future. "He will obviously come and I'm sure it will be relatively soon, I guess after Passover. There is no question whether he will come and meet Biden. They have been friends for 40 years."
On Monday, the White House welcomed Netanyahu's announcement that the legislation of the judicial reform will be paused for the time being.
"We welcome this announcement as an opportunity to create additional time and space for compromise," White House Press Secretary Karine Jean-Pierre said, according to AFP. "A compromise is precisely what we have been calling for."
"Democratic societies are strengthened by checks and balances and fundamental changes to a democratic system should be pursued with the broadest possible base of popular support," she added.
Meanwhile, White House national security spokesperson John Kirby told reporters that the United States remains concerned about the situation in Israel and President Joe Biden has shared his concerns about a proposed judicial reform directly with Netanyahu.