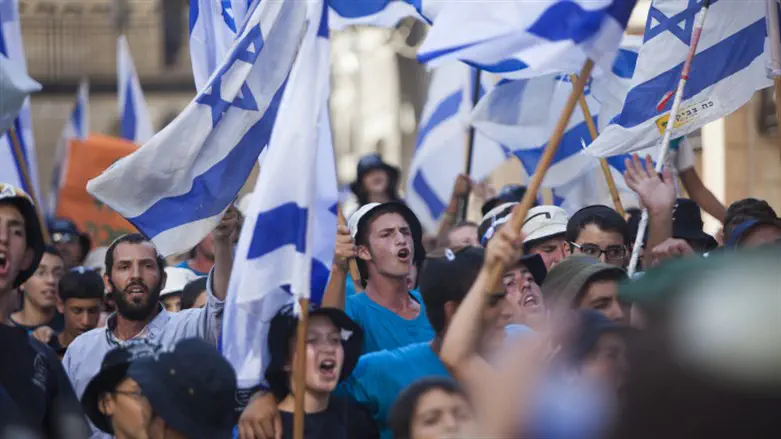 Pro-Israel rally (illustrative)
Flash90
Canadian Jewish advocacy organization Abraham Global Peace Initiative (AGPI) presented its film "The Future of Israel and its Defenders" at the Summit of European Jewish Leaders held in Berlin this week.
It was invited to them summit, attended by 400 European Jewish leaders, to present the film and to speak about Israel and Jewish affairs.
The film is billed as "a new optimistic documentary that celebrates Zionism and turns conventional wisdom about Israel on its head."
"The truth is that Israel has won the war for its survival. It just hasn't completely registered yet," AGPI said about the film, which looks at Israel through "the lens of experts, military strategists, 'start-up-nation' leaders, journalists, and former political leaders, [and] challenges traditional misconceptions of Israel including about antisemitism and defamatory campaigns that falsely call Israel an 'apartheid state' and Jews colonizers."
"As Israel reaches its 75th anniversary, the film challenges the hostile narrative by showcasing an Israel that is maturing and feeling stronger than ever (despite current challenges), particularly following the signing of the Abraham Accords. This is a film that will lift your spirit about Israel's future and inspire and empower you to renew your commitment to the Jewish State," according to the Toronto-based pro-Israel NGO.
"Given yesterday's developments in Israel, our timing could not have been any better and provided the exact themes summit attendees wanted to discuss" AGPI CEO Avi Benlolo said.
In a statement released by the organization on Monday, AGPI welcomed Prime Minister Benjamin Netanyahu's agreement to pause the judicial reform and to look for a negotiated path forward.
"AGPI welcomes Prime Minister Netanyahu's agreement to pause the process and to further dialogue among parties," the advocacy organization said. "Israel's vivid democracy is on full display, AGPI stands with Israel unconditionally. At the same time, the organization has expressed its concern for the safety and security of the Jewish State. We are pleased that Netanyahu is starting to listen to the people."
AGPI announced that "The Future of Israel and its Defenders" will be distributed in the EU so that attendees of the conference can share the documentary with their communities.
It is currently being shown by synagogues and Jewish federations around the world, and a deal was recently reached for it to be aired on TV during Israel's Independence Day.