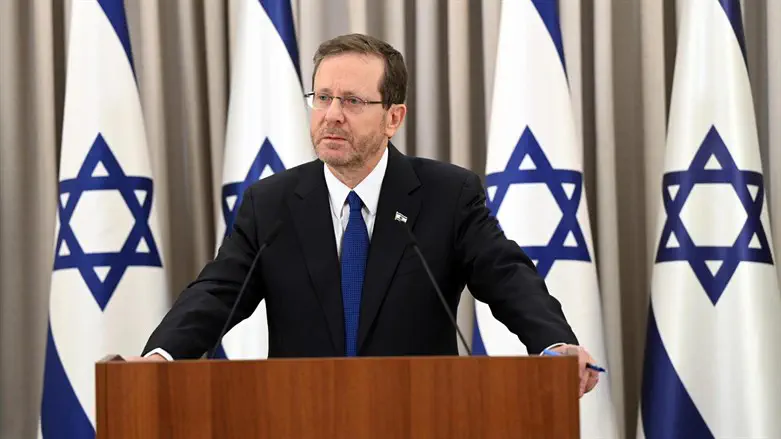 President Isaac Herzog
Haim Tzach/GPO
The director of the Religious Zionism party, Yehuda Wald, has expressed his reservations regarding the role to be played by President Isaac Herzog in hammering out some form of compromise between the coalition and the opposition on the judicial reform package, saying that Herzog has proven that he is not an impartial arbiter.
"We already held discussions and drafts were already proposed to the president, but ultimately, he submitted to the pressure from the Left and also to the wave of refusals to serve in the IDF, rejected all the suggestions, and took the side of the leftists and the anarchists," Wald said.
"Why should things be any different this time around? Unfortunately, the president is not objective. We do need to hold talks and arrive at a balanced outline, but without him involved. He is a part of the problem, not part of the solution."
Meanwhile, Prime Minister Benjamin Netanyahu has already appointed his negotiating team for the talks with opposition parties. The team will consist of Minister Ron Dermer, government secretary Yossi Fuchs, and Dr. Aviad Bakshi, the director of the legal department in the Kohelet Policy Forum.
Opposition head MK Yair Lapid's team will comprise MK Orna Barbivay, MK Karin Elharar, a former director of the Prime Minister's Office, Naama Shultz, and attorney Oded Gazit.
The team chosen by National Unity party head MK Benny Gantz will consist of MK Gideon Sa'ar, MK Yehiel Tropper, MK Orit Farkash-Hacohen, and attorney Ronen Aviani.
On Monday, Herzog spoke with Prime Minister Netanyahu, Opposition head Lapid, and National Unity party head Gantz, and welcomed the decision to commence discussions under the auspices of the President's Residence in order to arrive at a broad consensus. Herzog also requested that each of the three parties establish a special working team to conduct the negotiations; these teams have now been formed, as noted above.
The president added that he will continue to listen to external organizations who express concerns about the content of the judicial reform package.
In a separate meeting, MK Gantz spoke with PM Netanyahu and offered his congratulations on the decision to halt the judicial reform legislation. He also urged Netanyahu to reappoint Likud MK Yoav Gallant as Defense Minister, claiming that the move was "essential for state security and to calm things down."