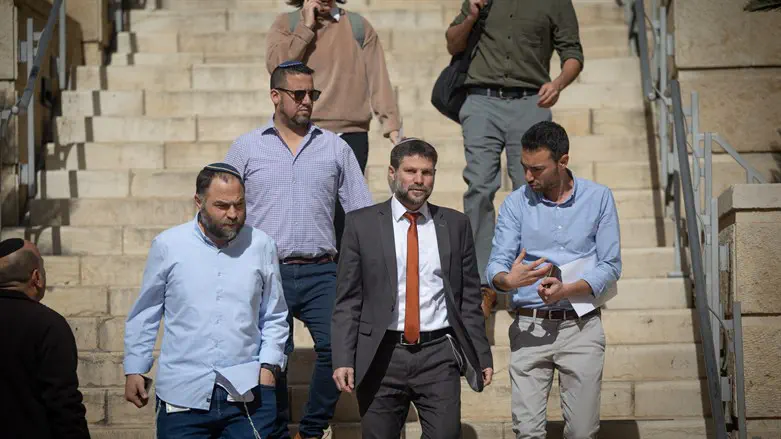 Bezalel Smotrich
Yonatan Sindel/Flash90
A survey conducted by the "Direct Polls" institute and published today found that two thirds of the religious population of Israel wants the government to continue to push for the passage of its planned judicial reforms and not to freeze the legislation as Prime Minister Benjamin Netanyahu.
66% of the 1,300 participants in the survey stated that the legislation should be "continued", 32% said to "stop the legislation" and 2% answered, "I have no position on the issue."
Finance Minister Bezalel Smotrich, chairman of the Religious Zionism party, issued a call to right-wing voters: "Comrades, under no circumstances should the reform to fix the justice system and strengthen Israeli democracy be stopped. We are the majority. We cannot submit to violence, anarchy, refusals [to serve in the IDF] and wild strikes. We are the majority. Let's make our voice heard."
"We are meeting tonight at 6 pm in Jerusalem, in front of the Knesset. I will be there. You should come as well. We will not let them steal our voice and our country," said Smotrich.
Prime Minister Neyanyahu had reportedly planned to give a public address this morning (Monday) announcing that he is freezing the judicial reform legislation following the dismissal of Defense Minister Yoav Gallant (Likud) and the mass demonstrations which subsequently broke out across the country Sunday night. He decided to hold off on making a public statement after the Religious Zionist Party issued a statement demanding the immediate passage of legislation altering the judicial appointments committee.