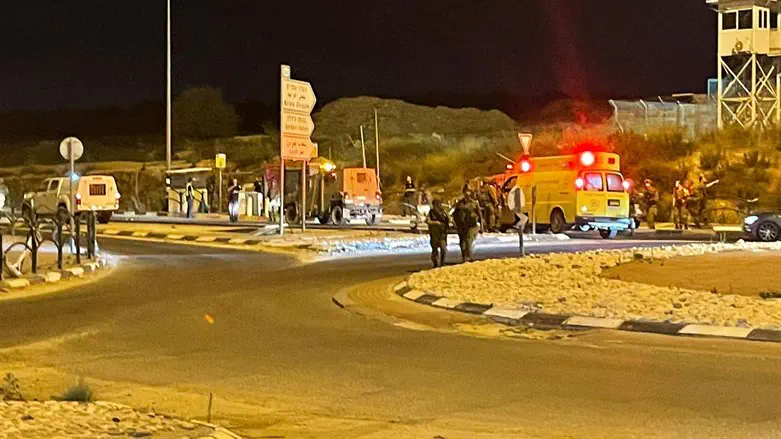 Tapuah Junction
Noam Rosenfeld/TPS
An IDF soldier opened fire at an Israeli man and his son as they waited at a checkpoint in Samaria Saturday night.
The incident occurred at the Tapuah Junction checkpoint, just outside of the Israeli town of Kfar Tapuah in Samaria, when Moshe Arieli and his 10-year-old son, Yair, were driving south on Route 60 through the junction.
After driving through the Arab town of Huwara – a village which straddles Route 60, where a number of terrorist shooting attacks have taken place in the last month – an army officer told Arieli told them to drive through Tapuah Junction.
Once they arrived, however, an IDF officer manning the checkpoint would not let them continue on their way.
Arieli told Kan Sunday that despite his car bearing Israeli license plates and even after he identified himself as an Israeli, the soldier demanded that he and his son step out of the car.
When Arieli refused, the soldier began to shoot at the car, without prior warning.
"In a matter of seconds, without giving any prior warning, he pointed his gun and started to shoot at the car. Five, six bullets, maybe seven bullets, I can't recall exactly. Yair was sitting in the back. For a moment he was quiet, and I was certain that he had been hit."
After the incident, an IDF officer arrived and reprimanded the soldier, and checked on the two travelers to ensure they were unharmed.
"Today, the brigade commander called me to apologize on the army's behalf. I told him that the army has nothing to apologize for. It was the soldier that made the mistake. It left me with emotional damage, as well as property damage."
Following the shooting, an IDF spokesperson claimed that Arieli had continued to drive through the checkpoint.
"In the wake of the Huwara terrorist attack last night, vehicles were not allowed to pass through Tapuah Junction."
"IDF soldiers in the area stopped a vehicle for a check. The car continued to drive, without the soldiers' permission, and attempted to pass through the checkpoint. The force opened fire on the car's tires, with a hit being identified in one of the tires. According to a preliminary investigation, it appears that the force's behavior was not appropriate. There were no injuries. The incident is still under investigation."