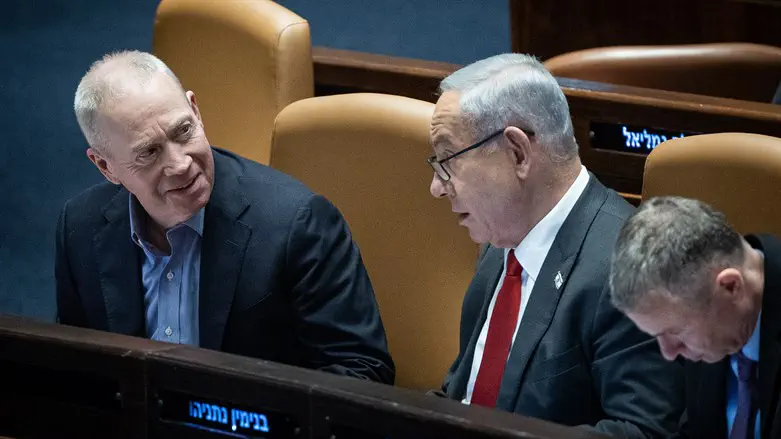 Netanyahu and Gallant
Yonatan Sindel/Flash90
Defense Minister Yoav Gallant demanded that Prime Minister Benjamin Netanyahu convene the Cabinet to discuss the consequences of the judicial reforms, and decided to deliver his public address last night calling for the reforms to be frozen after Netanyahu refused to convene the Cabinet.
In his speech last night, Gallant said: "We need a change in the legal system, but such changes are made through negotiation and discourse. A victory for one of the parties will be a loss of the State of Israel. We must lead a participatory and unifying process."
"For the sake of Israel's security, the legislative process should be stopped, and negotiations should be held," he said.
The Defense Minister met with Prime Minister Netanyahu several times in the last few weeks and gave him the same warnings as IDF Chief of Staff Herzi Halevi and the heads of the Mossad and Shin Bet of the dangerous effects the judicial reform legislation is having on the defense establishment's ability to protect the State and its citizens. Gallant demanded that the bills be frozen to prevent last damage to Israel's security.
Netanyahu refused Gallant's demand to convene the Cabinet to discuss the legislation's consequences, and on Thursday night delivered a speech in which he refused to freeze the bills.
Government officials called Netanyahu's refusal to convene the Cabinet at the request of a senior minister to discuss an issue of such importance unprecedented.
One official called the move "madness," saying that "not only the prime minister and the defense minister bear responsibility, but the entire government, through the cabinet. The ministers must know the meaning of and consequences of the processes they lead."
Another source said: "Imagine that a war breaks out and the IDF is not competent. What will Netanyahu say to the commission of inquiry that will be established after the war? What will the cabinet members say? How will they be able to look the public in the eye and say that they did everything to prevent it?"