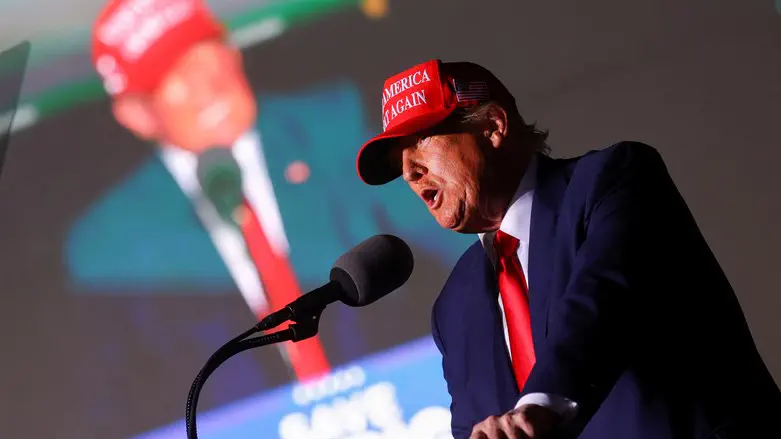 Donald Trump
REUTERS
Former President Donald Trump was widely criticized on Friday for posting a photo of himself holding a baseball bat near Manhattan Manhattan District Attorney Alvin Bragg's head while warning that there will be "death and destruction" if he is indicted.
Trump shared the image in a Truth Social post on Thursday as part of his attack on Bragg for pressing for criminal charges against him over the $130,000 in "hush money" given to Stormy Daniels, the New York Post reported.
"They are HUMAN SCUM!" Trump, 76, ranted, questioning why Bragg "refuses to do the right thing and 'call it a day?'"
The former president's posting continued into early Friday morning, with him accusing Bragg of being a "degenerate psychopath that truely [sic] hates the USA!"
Shortly after 1 a.m., Trump wrote: "What kind of person can charge another person, in this case a former President of the United States, who got more votes than any sitting President in history, and leading candidate (by far!) for the Republican Party nomination, with a Crime, when it is known by all that NO Crime has been committed, & also known that potential death & destruction in such a false charge could be catastrophic for our Country?"
Trump started posting again at 9 a.m. on Friday, simply writing: "PROSECUTORIAL MISCONDUCT!"
Last week, Trump stated that he believed he would be arrested on Tuesday. But he was not charged this week, with the grand jury instead postponed on Wednesday and again on Thursday.
Manhattan prosecutors have been convening a grand jury in the case since January. Trump's alleged wrongdoing would normally be a misdemeanor under New York law. But Bragg has been attempting to raise it to a felony count by linking it to violating federal campaign finance rules, the New York Times reported.
(Israel National News' North American desk is keeping you updated until the start of Shabbat in New York. The time posted automatically on all Israel National News articles, however, is Israeli time.)