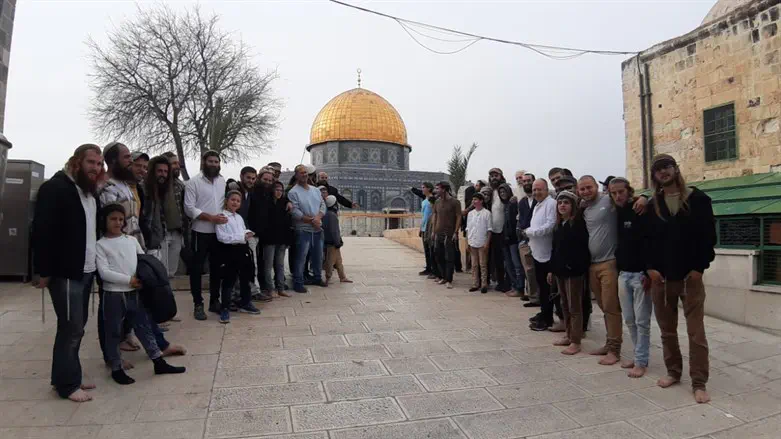 Jews visit Temple Mount
courtesy
The police have reduced the duration of the visiting hours during which Jews may visit the Temple Mount for the Islamic holy month of Ramadan. The new regulations took effect today, the first day of Ramadan, and will remain until April 22.
The Temple Mount, the sight of the First and Second Temples, is the holiest site in Judaism.
Throughout the year, the Temple Mount is open to Jews every day from 7 am to 10:30 am, and also from 12:30 pm to 1:30 pm. During Ramadan, only the morning hours will remain open to Jews.
259 Jews ascended the Temple Mount today (Thursday) on the occasion of Rosh Chodesh, the first first day of the Hebrew month of Nissan.
Tom Nissani, the director of "Beyadenu - For the Temple Mount," criticized the police's decision to limit Jewish visits to the Temple Mount during Ramadan.
"In the State of Israel, it turns out that a Muslim holiday is a reason to further restrict Jews on the Temple Mount. This custom, to harm the rights of Jews because the Arabs may hold riots, is a failed custom based on mafia-style protection and nothing else. Such a situation must not be accepted."
The Jerusalem Police said in response: "Visits by tourists and Jews in the coming Ramadan will be allowed during the usual visiting hours as is the case every year in the month of Ramadan."