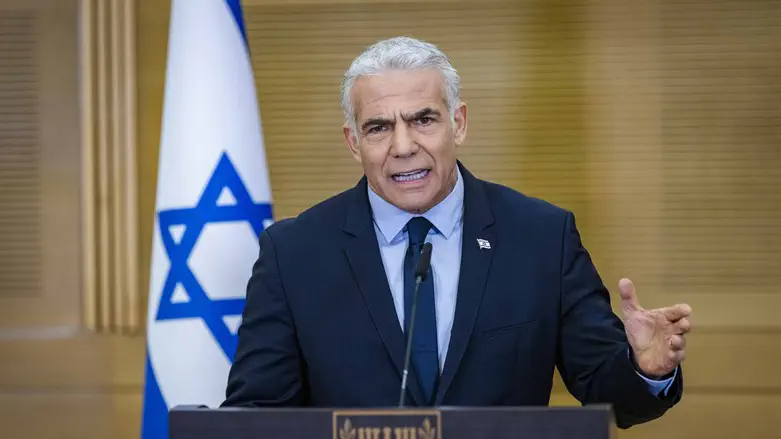 Opposition leader Yair Lapid
Olivier Fitoussi/Flash90
Opposition leader Yair Lapid responded to Prime Minister Netanyahu's statement.
"Instead of stopping the legislation and calming the public, Netanyahu again complained and continued to spread disgraceful lies against the justice system that have nothing to do with reality. The voice is the voice of Netanyahu, but the hands are the hands of Yariv Levin,'' said Lapid.
"Netanyahu refused to stop the legislation and his announcement that they are bringing the change to the committee for the appointment of judges next week proves that he has no intention of holding real negotiations. This is a complete illusion. I call on the people in charge in Likud to stop Yariv Levin. Do not transfer the change to the committee for the appointment of judges and come to the talks at the president's house. Stop the attempt to turn us into an undemocratic country. Listen to the hundreds of thousands of loyal patriots who took to the streets. Listen to the Minister of Defense, the people of the economy and security industries,'' added Lapid.
Former Justice Minister MK Gideon Sa'ar responded to Prime Minister Netanyahu's statement.
"Netanyahu's speech this evening succeeded in disappointing even those who had no expectations of him. Practically, he announced that he intends to bring in, as planned, the law to take over the selection of judges. Along the way, he solemnly announced that he would trample on the conflict of interest arrangement that applied to him as a defendant. Another missed opportunity that widens the rift In the people. The answer: intensifying the protest," said Sa'ar.
National Unity leader Benny Gantz commented: "Netanyahu is the same. Netanyahu should do a simple thing - stop for discussion. Many members of the Knesset in the coalition, led by the Minister of Defense, see the rush of legislation we are experiencing as a serious injury to Israeli democracy and society as well as a historical mistake." Gantz said.
"Tonight it is clear beyond any doubt that the coup will seriously damage Israeli democracy and society, it will be a direct damage to Israel's security and a first-rate national irresponsibility. Now it remains for Netanyahu to do what he is talking about and stop, and for the coalition members responsible - to announce that they will not vote next week in favor of the law that will cause politicization in the process of electing judges in Israel,'' Gantz said.
Yisrael Beyteinu leader Avigdor Liberman commented: "The pact between Netanyahu and Levin will lead us to the destruction of the Third Temple."
The former Minister of Education, MK Dr. Yifat Shasha-Biton (National Unity), responded to Netanyahu's speech: "You are a charlatan, selfish and inciting. History will not forgive you for the damage you continue to cause to the State of Israel and the rift you continue to cause in the nation. This has been a very sad evening."