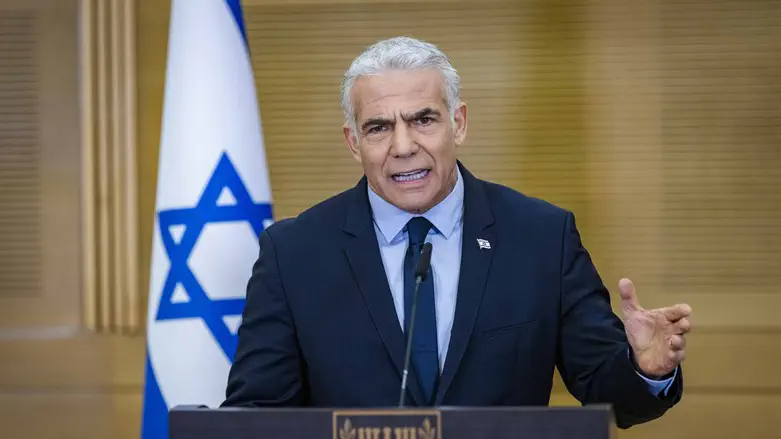 Opposition leader MK Yair Lapid
Olivier Fitoussi/Flash90
Opposition leader MK Yair Lapid (Yesh Atid) has refused to issue a joint statement with Transportation Minister Miri Regev (Likud), asking the public to refrain from holding protests on Independence Day.
"We will not pretend that we are celebrating together and that everything is fine while the government is tearing the Israeli people apart and erasing democracy," Lapid stated.
"We will not sit back and watch yet another shameful display of flattery for the Netanyahu family."
Earlier on Thursday, over 90 Knesset members signed a letter initiated by MK Yehiel Tropper (National Unity) calling on the public to refrain from bringing the conflict that has been dividing the nation into cemeteries during the upcoming national days of remembrance.
The letter states, "Our sons and daughters who are buried in the military cemeteries came from all groups and tribes. The sons and daughters who paid with their lives fought shoulder to shoulder so we could live here and stay here together.
"We, Knesset members from all parties, call on everyone, public figures and all the people of Israel, to refrain from bringing the argument into the cemeteries and the holy days for the Israeli identity that was built here."
The first to sign the letter were National Unity chairman Benny Gantz and the members of his party. They were joined by MKs from both the opposition and the coalition, including members of the Likud, Shas, UTJ, Religious Zionism, Yesh Atid, Yisrael Beytenu, and Labor parties.
Likud members who signed the letter did so despite calls from Transportation Minister Miri Regev not to sign since the letter does not mention refraining from acts of protest during Holocaust Memorial Day and Independence Day events.