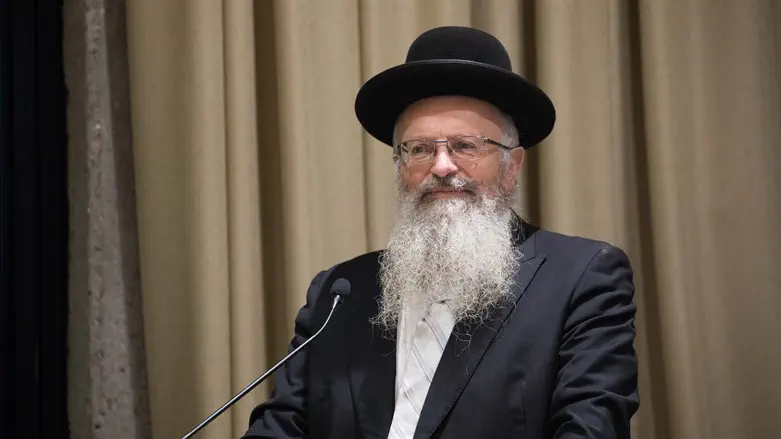 Rabbi Shmuel Eliyahu
Yonatan Sindel/Flash90
Senior rabbis from the Religious-Zionist community, including Rabbi Dov Lior, Rabbi Chaim Steiner, Rabbi David Chai Hacoheh, Rabbi Shlomo Aviner, Rabbi Shmuel Eliyahu, and Rabbi Yigal Levinstein, have issued a call to students in Religious-Zionist yeshivot to go out and stand at the crossroads and mobilize for a public awareness campaign designed to explain exactly what the government's judicial reform package contains and why it is so important.
Letter signed by leading rabbis
Israel National News
In their letter, the rabbis stress the importance of the yeshivah students going out onto the streets and joining the effort of the national camp to present the issues in an accurate, informative, and compelling manner.
"Unfortunately, there is a small group of anarchists which receives donations from abroad to disseminate lies about the government using all the tools of mass media, to convey the impression that these reforms will turn the country into a dictatorship, that Israel will turn into Iran and women will be enslaved," they write. "It's as if right-wing and religious voters are incapable of independent thought, as if there are no genuine problems with the judiciary -- as if the entire goal is to extricate the prime minister from his trial.
"We are obligated to mobilize in support of fixing the broken judicial system here," they continue. "We must also help all those who innocently believe the propaganda, and enable them to see the truth. Each and every person should do whatever he can -- standing at crossroads with signs, giving explanations, donating money. Each one of us must do his part, and together we will prevail."
Meanwhile, the headquarters of the pro-reform movement issued a statement saying: "At this time, when our great rabbis are mobilizing for this important battle, we call on yeshivah students to go into action, and we will do everything we can to help them reach the crossroads and mobilize in order to disprove the lie that the reforms will turn Israel into a dictatorship. We call for everyone to do what he can so that the movement should succeed, especially now that the yeshivot have started their Passover recess."
On Wednesday, hundreds of right-wing activists took to the bridges across the country to demonstrate their support for the government's judicial reform program. Hundreds of placards were hung, reading: "The people voted for reform, support the reforms and come out to the bridges," as well as, "Put a stop to Supreme Court rule - Reform Now."
Placards were also hung on dozens of roads and at intersections all over the country, many showing pictures of Justice Minister Yariv Levin and Constitution Committee chairman MK Simcha Rothman, with the legend, "Yariv, Rothman, the People are with you! 2,304,964 citizens voted for the reforms to fix the judiciary."
Also on Wednesday, the pro-reform movement hung a huge billboard outside a hotel at the entrance to Jerusalem, and another one near the Azrieli Center in Tel Aviv.