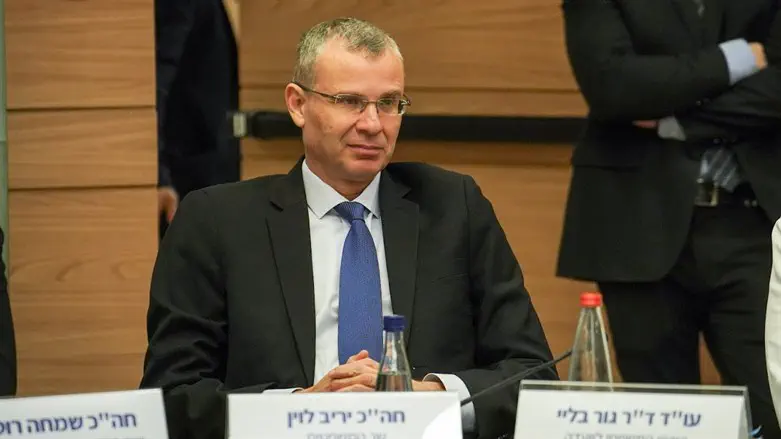 Yariv Levin
Danny Shem Tov/Knesset spokesperson
Justice Minister Yariv Levin said in talks with Knesset members in the past day that the Judicial Selection Committee, in its new composition, will be convened to appoint judges - even if the law which changes its composition which will be approved in the coming days is invalidated by the Supreme Court, Kan 11 News reported on Tuesday.
According to the report, Levin harshly attacked the possibility that the Supreme Court would strike down the law and claimed that "the judges of the Supreme Court are in a sharp conflict of interest."
Levin's office denied the report.
Finance Minister Bezalel Smotrich was asked during a press conference he held with MK Simcha Rothman on Tuesday evening if he would be willing to commit to obeying the ruling of the Supreme Court in the event that it strikes down the judicial reform.
He replied that "this is an illegitimate question, and I am not prepared to deal with it. I do not imagine that such an initiative will be rejected by the court and I expect the court to respect the Knesset."
Earlier on Tuesday, Economy Minister Nir Barkat said that in the event that the Supreme Court rejects the amendments proposed in the reform, he will respect the decision. The Likud responded to Barkat's remarks and said, "The principle that the Supreme Court does not have the authority to invalidate basic laws appears in all the proposals, including the President's proposal, and it will be anchored in the judicial reform. That's why there is no place for a constitutional crisis."
The Constitution Committee is preparing the new outline for changing the composition of the Judicial Selection Committee for its second and third readings.