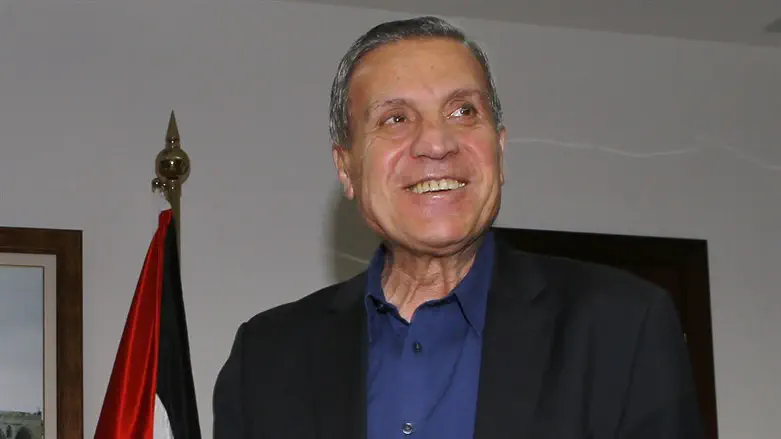 Nabil Abu Rudeineh
Reuters
Nabil Abu Rudeineh, the spokesman for the Palestinian Authority chairman Mahmoud Abbas, on Tuesday condemned the Knesset's approval of the law cancelling the Disengagement in northern Samaria.
Abu Rudeineh called the law "invalid and in contradiction to all international legitimacy decisions and in particular to Resolution 2334 (of the Security Council) which considers all settlements an illegal operation in all Palestinian lands."
"The approval of the law in the Knesset shows that the Israeli government is determined to provoke international law and is working to thwart international efforts to prevent security escalation," he charged.
Abu Rudeineh called on the international community, and in particular the US administration, "to pressure the Israeli government and force it to stop taking unilateral measures that are contrary to international law and all agreements signed between the parties."
The Monitoring Committee of the National and Islamic Forces, the umbrella framework of all Palestinian Arab organizations, called the law a "declaration of war against the Palestinian people", noting that it "proves once again that the fascist right-wing government in the Zionist entity has not stopped its policy against the Palestinian people, chiefly expropriating the lands and building settlements."
Meanwhile on Tuesday, US State Department deputy spokesman Vedant Patel condemned the Knesset's passage of the law.
"The United States is extremely troubled that the Israeli Knesset has passed legislation rescinding important parts of the 2005 Disengagement Law, including the prohibition on establishing settlements in the northern West Bank," Patel said.
Patel claimed that Homesh, one of the four communities is "illegal" even under Israeli law because it was "built on private Palestinian land."
He called the move "particularly provocative and counterproductive to efforts for restoring calm" and said that the administration "strongly urges Israel to refrain from allowing the return of settlers to the area covered by the legislation."
"We have been clear that advancing settlements is an obstacle to peace and the achievement of a two-state solution," he said.