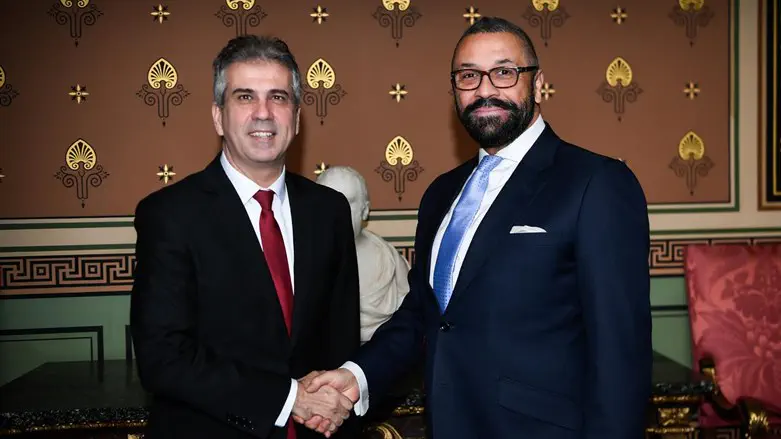 Foreign Minister Eli Cohen with UK Foreign Secretary James Cleverly
Stuart Mitchell
Foreign Minister Eli Cohen and his British counterpart, Foreign Secretary James Cleverly, met on Tuesday in London.
Minister Cohen thanked his counterpart for the warm relationship between the two countries and expressed appreciation for the cooperation on the part of Great Britain in the international arenas.
The two discussed the Iranian issue at length and agreed that the continuation of Iran's uranium enrichment to the prohibited and dangerous levels would lead to serious consequences on the part of the international community.
Cohen told his host that he hopes that the continued deepening of economic activity between the two countries will result in the possibility for additional British financial institutions and factors entering Israel.
The two ministers signed a "road map" that will anchor and deepen Israel-UK relations in the next ten years.
"We talked extensively about the Iranian threat and ways to prevent Iran from obtaining nuclear weapons. I said that the international community must unite against the Iranian threat, increase sanctions, and present a viable military threat," tweeted Cohen after the meeting.
"I informed the Foreign Secretary of the economic delegation I am leading, which aims to expand economic cooperation between the two countries," he added.
"Britain is one of our greatest allies, and today we signed an agreement that will further strengthen the ties between us," concluded Cohen.