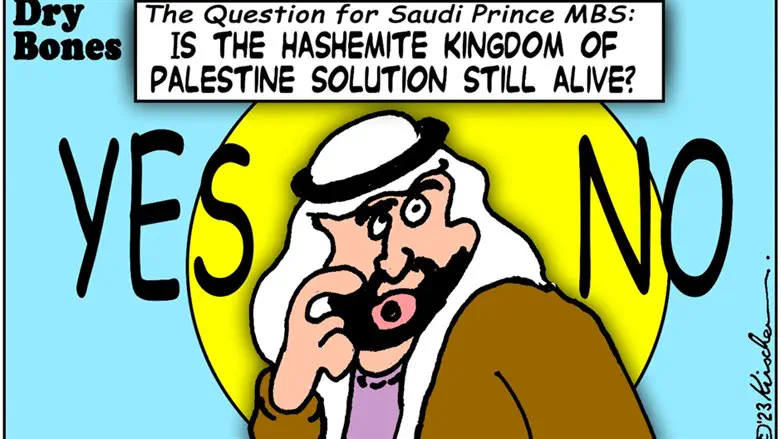 Dry Bones: Yes or no?
Y. Kirschen
Following the announcement that Saudi Arabia and Iran intend resuming diplomatic relations within the next two months – Saudi Arabia's Crown Prince and Prime Minister - Mohammed Bin Salman (MBS) – needs to urgently answer this one question:
"Is the Hashemite Kingdom of Palestine solution published on 8 June 2022 by your confidant Ali Shihabi dead - or is it still alive?"
Saudi Arabia severed ties with Iran after two of its diplomatic posts were attacked in Tehran and Mashhad in 2016 by demonstrators protesting Saudi Arabia's executions of 47 people convicted of terrorism - including Shia preacher Nimr al-Nimr and al-Qaeda ideologue Fares al-Shuwail.
MBS's answer will help give meaning to the final sentence intriguingly included in the Joint Trilateral Statement by the People's Republic of China, the Kingdom of Saudi Arabia, and the Islamic Republic of Iran issued on 10 March:
"The three countries expressed their keenness to exert all efforts towards enhancing regional and international peace and security."
Has Iran's Supreme Leader Ali Khamenei decided to abandon Iran's call for the elimination of Israel and accept Israel's reality as expressed in the Hashemite Kingdom of Palestine solution?
"Israel is a reality firmly implanted on the ground that has to be accepted, however grudgingly, by the region around it."
Is Paramount Leader Xi Jinping of China – a permanent member of the UN Security Council – ready to consider replacing the UN's failed 2016 two-state solution with the Hashemite Kingdom of Palestine solution?
MBS's response will also confirm or reject the claim by Saudi Arabia's former intelligence chief – Prince Turki Al-Feisal - that the Kingdom was sticking to the terms of the failed 2002 Arab Peace Initiative in its drive to normalise relations with Israel:
"The terms are well-known. The creation of a sovereign Palestinian state with recognised borders and Jerusalem is its capital, and the return of Palestine refugees."
"What I have said was not my opinion, but it was declared by officials. I trust the officials when they say anything, and anything made by media is nonsense."
The 2002 Arab Peace Initiative has been rejected by every Israeli government in the past 20 years. Its use by date has long expired.
Several Arab states have bypassed it and forged ties with Israel under the Abraham Accords.The Aqaba Summit seeks horizons for peace.
The Hashemite Kingdom of Palestine solution shreds the 2002 Arab Peace Initiative by calling for:
The merger of Jordan, Gaza and part of Judea and Samaria (West Bank) into one sovereign territorial entity
Having its capital in Amman and not Jerusalem
Being governed by the current rulers of Jordan for the last 100 years – the Hashemites – not the PLO or Hamas.
The Hashemite Kingdom of Palestine solution would have needed MBS's approval before its publication in the Government-controlled Al Arabiya News – given it was trashing Saudi Arabia's foreign policy for the previous 20 years.
No Saudi Arabian citizen could expect to be walking Riyadh's streets the day after making such a public statement without MBS consent. Yet its author – Ali Shihabi - remains a member of the Board advising MBS on the construction of a US$500 billion futuristic mega city called Neom in north western Saudi Arabia - covering an area the size of Israel.
Significantly MBS has not rejected the Hashemite Kingdom of Palestine solution in the 10 months since its publication. Neither have the leaders of those Arab parties most affected: Jordan's King Abdullah, PLO leader Mahmoud Abbas and Hamas chief Ismail Haniyeh – whose policies for the past 25 years will also become ancient history.
Time for MBS to break his silence by answering this one pressing question definitively and without further delay.
Please join my Facebook Page: "Hashemite Kingdom of Palestine supporters"
Author's note: The cartoon — commissioned exclusively for this article — is by Yaakov Kirschen aka "Dry Bones"- one of Israel's foremost political and social commentators — whose cartoons have graced the columns of Israeli and international media publications for decades