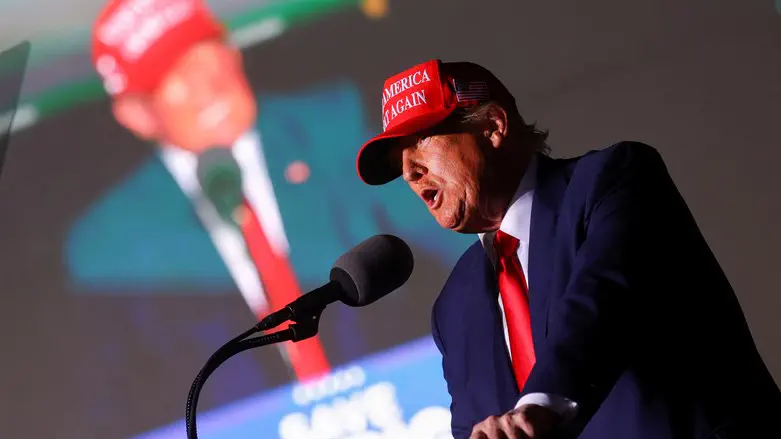 Donald Trump
REUTERS
New York police tightened security on Monday ahead of a possible historic indictment of former US President Donald Trump over hush money paid to an adult film actress, AFP reports.
Only a couple of dozen Trump supporters attended a protest in America's financial capital on Monday evening, as a grand jury weighs an investigation by Manhattan District Attorney Alvin Bragg over the 2016 payment to the actress, Stormy Daniels.
Trump would become the first former or sitting president to be charged with a crime if an indictment is filed.
While no plans to indict Trump have been confirmed publicly, Trump said over the weekend that he expects to be "arrested" on Tuesday and urged supporters to "Protest, take our nation back!".
His call has sparked concerns about how his supporters could respond, with those concerned citing the violence on the Capitol on January 6, 2021.
The NYPD geared up for an unprecedented arrest by erecting barricades outside the office of Manhattan District Attorney Alvin Bragg and Trump Tower on Fifth Avenue, according to AFP.
NBC News said police and other law enforcement agencies had conducted "preliminary security assessments," including placing a security perimeter around the Manhattan Criminal Court where Trump would likely appear before a judge.
House Speaker Kevin McCarthy (R-CA) responded to Trump's statement on Sunday and said that there should be no "violence or harm."
"I don't think people should protest this stuff," McCarthy said, according to The Hill.
Trump's former Vice President Mike Pence called the potential indictment against Trump "deeply troubling" but noted that "violence will not be tolerated."
"We respect the right of Americans to let their voice be heard and to express the frustration over what appears to be a politically motivated prosecution of the former president," Pence said. "But we want to send a very clear message that violence will not be tolerated and anyone that would engage in violence would be prosecuted to the fullest extent of the law."