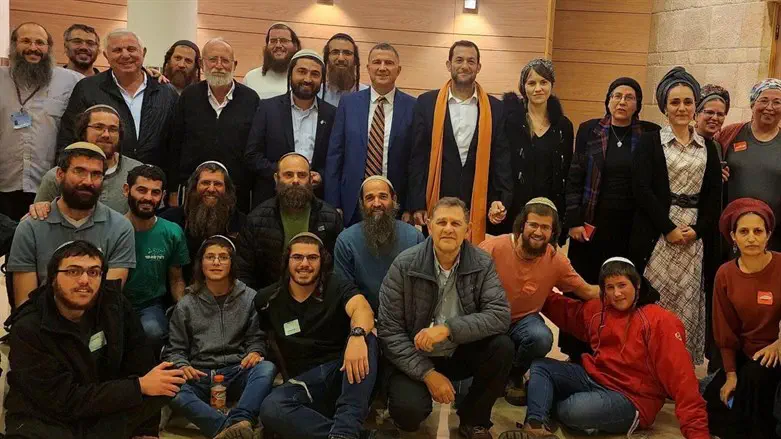 Celebrating the approval of the law in the Knesset
Samaria Regional Council
The Knesset on Monday night approved the law cancelling the Disengagement in northern Samaria in its second and third readings.
The law was approved by a majority of 31 to 18. It was approved in its first reading a week ago and returned to the Knesset Foreign Affairs and Defense Committee, which prepared it for Monday night's second and third readings.
The bill states that the prohibition on entering and staying in areas in northern Samaria, which was first imposed during the 2005 Disengagement from Gaza and northern Samaria, will be lifted. The law will regulate the status of the students of the Homesh Yeshiva and will allow the residents of Homesh and Sa-Nur to reside there in an orderly manner.
The law does not apply to the territory of the Gaza Strip.
Minister Orit Strock welcomed the approval of the bill and said, "This is a great day for the State of Israel. It's not just that we are not going back to Homesh and rebuilding the towns, but we are changing the movement, we are moving forward - and not backward. We are blessed to have this moment!"
MK Yuli Edelstein, who is one of the initiators of the bill, said, "17 years of attempts, an uncompromising fight and a strong belief in the rightness of the path came together to one moment when the Knesset plenum voted in favor of canceling the Disengagement Law. The State of Israel tonight began its recovery process from the disaster of the expulsion. History has shown, and continues to show us, that whenever we give up parts of our homeland, we will receive increasing terrorism. It is a clear and well-known equation, with results that never change. This is the first and significant step towards a real repair and establishment of Israel in the territories of the homeland that belong to it."
MK Ze'ev Elkin (National Unity Party) welcomed the advancement of the bill, noting that it is a coming of a full circle for him.
"The most direct circle is related to the fact that I, together with Minister Orit Strock, were the first two members of Knesset who submitted this bill several terms ago. Now, the law is reaching the moment of approval. This is an important law that fixes the very great injustice of the Disengagement plan," Elkin said.
National Unity chairman Benny Gantz made clear during the debate on the law that he would oppose the bill.
"I think it is wrong to go back there. We must remember that, alongside the fact that we are in favor of settlement, we also cannot ignore our need to find a way to live alongside Palestinians who are in the area," Gantz said.