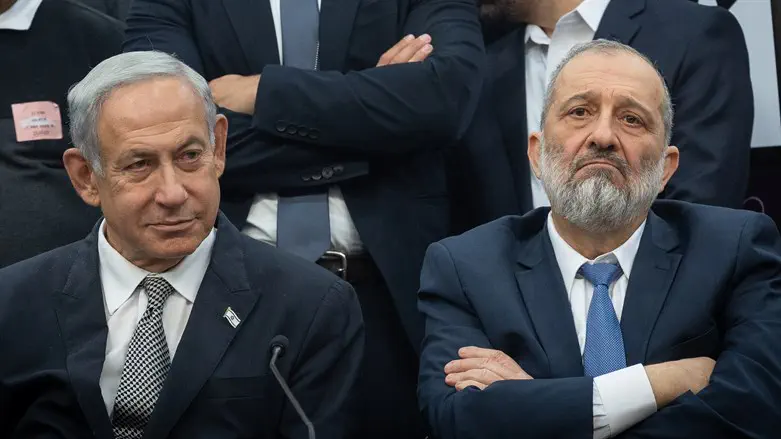 Netanyahu and Deri
Yonatan Sindel/Flash 90
The Knesset plenum on Monday evening approved the first reading of the so-called "Deri 2 Law" which would pave the way for Shas chairman Aryeh Deri's return to the role of minister.
The law stipulates that the Supreme Court will not be able to hold a judicial review of ministerial appointments. It was approved by a majority of 63 Knesset members who supported the proposal against 55 who opposed it. The bill now be returned to a special Knesset committee for preparations for its second and third readings.
MK Ofir Katz (Likud) presented the proposal and said, "We believe that the proposal will strengthen the position of the judiciary, that it will go back to focusing on those areas in which it has priority and an advantage over the other authorities, and will not restrict the legislative authority."
"I think that the many amendments to the bill, the upheavals it underwent in light of the comments of the legal counsel and the comments heard in the committee, illustrate the great importance of the parliamentary debate we held, the seriousness with which all of us, all the members of the committee, took our task as members of the Israeli legislative authority."
MK Gideon Sa'ar (National Unity Party) blasted the bill and claimed that it was tailored to one man, alluding to Deri.
"What motivates all these amendments? Is it a broad constitutional view, some deep insights to improve and change our system of government? Only personal interests. The law we are discussing now - its purpose is transparent, to try to take care of one person whose appointment as a minister was rejected by the Supreme Court, nevertheless to be appointed to the minister, despite the ruling," he said.
Prime Minister Benjamin Netanyahu fired Deri from his roles as Interior and Health Minister in late January.
The move was necessitated by the Supreme Court's ruling that the Shas chairman may not serve as a minister in the current government following his conviction for tax offenses one year ago.
The Supreme Court argued that, in Deri's plea bargain, the Shas chairman promised the Magistrate's Court that sentenced him that he would retire from political life and as such, his appointment as a minister in the current government cannot stand.
However, former Attorney General Avichai Mandelblit, who was in office when the agreement with Deri was signed, told Channel 12 News that the plea bargain did not include any reference to Deri being in politics.