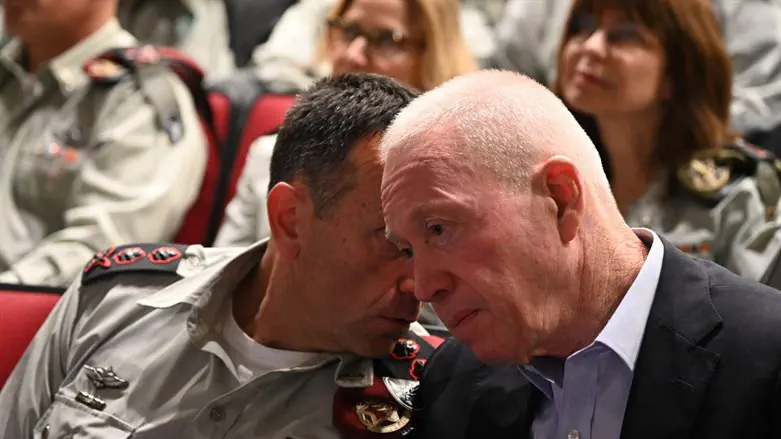 Minister Gallant and Chief of Staff Halevi
Ariel Hermoni/Defense Ministry
Defense Minister Yoav Gallant participated today (Monday) in the IDF's annual operational forum, led by Chief of Staff Herzi Halevi.
Gallant spoke with the commanders about the security challenges facing the State of Israel in the various sectors of operation, and addressed the phenomenon of reservists refusing to report for duty to protest the government's planned judicial reforms.
"The calls for refusal are dangerous and a widespread phenomenon of refusal could harm the IDF's ability to carry out its missions. Together with the Chief of Staff, the members of the General Staff and with you - the commanders - I am working to keep the IDF above any political debate and to denounce any phenomenon of refusal to serve. The IDF belongs to all of us, and we must protect it at all costs," Gallant said.
He added that "the IDF is the defense tool of the State of Israel, without it the State of Israel and its citizens cannot survive. The refusal eats away at our basic foundation - our security, the calls for refusal and the participation in it is dangerous for all of us, especially in view of the threats facing us."
Gallant also referred to the Iranian threat and said that "the privilege that the State of Israel and the security establishment had for years, to demarcate and limit a war to a specific area, has ended. Today, behind all the threats to the State of Israel, from Lebanon and Syria in the north, through Judea and Samaria to Gaza in the south, there is a guiding hand - and it originates in Iran."
"The head of the octopus sits in Iran and its arms are attempting to hurt us. The Iranians are trying to buy time through a war of attrition, during which they will hurt Israel and at the same time work to achieve military nuclear capability and the strengthening of their economy, we will not allow this," he concluded.
Earlier, it was reported that Gallant has threatened to resign as defense minister if no compromise is reached on the government's planned judicial reforms in response to the growing number of refusals to serve in the IDF.
The protests within the IDF against the judicial reforms reached a crescendo this week when hundreds of reservists refused to report for duty, fulfilling threats that have been made for months that soldiers would refuse to serve if the reforms are passed.