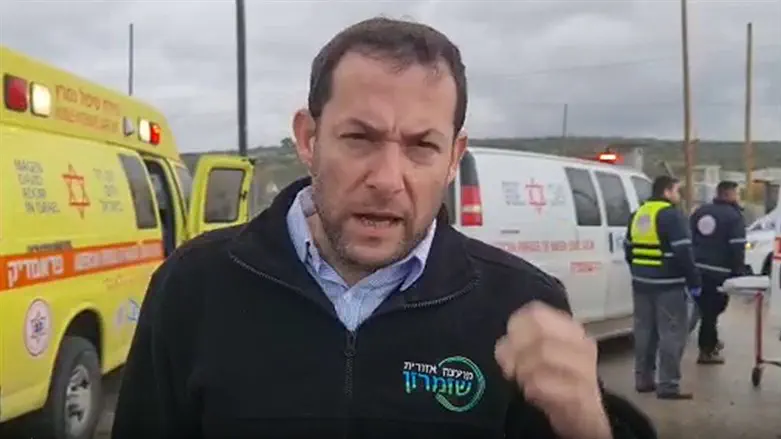 Samaria Regional Council Chief Yossi Dagan at the scene of the attack
Spokesperson
Following the terror attack in which two dual American-Israeli citizens, David and Rachel Stern, were injured, Samaria Regional Council Chief Yossi Dagan is calling on US Ambassador Tom Nides to visit the victims and to explain US pressure against the Israeli government.
"I call on the American Ambassador to come here now, to the hospital, to enter the room with me, to look him in the eyes, and to give answers, to explain. From here, I demand that the US government stop the hysterical pressure on the Israeli government against the IDF's effective military operations, against the defense establishment, against the Jewish settlement in Samaria, which the despicable terrorist attacked today," stated Dagan.
"This resident, this hero, is a living hero, the glory of Samaria, who protected his wife by himself, a man of martial arts and an educator. As the despicable terrorist shot at him and he was injured by the shooting, he pulled out his weapon and returned fire. With his presence of mind, he saved his own life and his wife's life; he's an Israeli hero, a Samarian hero. The settlement in Samaria is strong," Dagan continued.
He thanked the staff at Belinson hospital in Petach Tikva who are attending to the victims and sent his support to the IDF soldiers and the entire defense establishment. He also called on the government to act against terror, "We all demand that the government returns a fight, to return the security checkpoints, to collect the weapons, to launch a military operation against the terrorist 'Palestinian Authority' which is behind this wave of terror. We cannot continue the reality of the previous government and expect results. We will not agree to be sitting ducks on the range, we will not agree to give up the lives of Samaria residents."
The council chief also called on residents to refrain from vigilantism and reprisals, "From here, I say, we have one IDF, one state, we have a lot of complaints and anger against the government, and it's justified, and we have to say that this is a government that we support. But in the same breath, I say clearly, my demands are only of the political rank and the government, we do not take the law into our own hands, and we do not do things that are forbidden to do."
הרכב הפגוע
צילום: נדב גולדשטיין/TPS
Earlier Sunday, a terrorist in the Arab town of Huwara opened fire from point-blank at a 44-year-old US Marine veteran, David Stern, and his wife, 37-year-old Rachel Stern, residents of the Givat Ronen neighborhood in the town of Itamar, who were on their way to Jerusalem.
During the attack, Stern was able to return fire – even after being shot in the head – wounding the terrorist, who dropped his gun and fled. The Palestinian Authority outlet WAFA reported that the terrorist was later arrested.
יוסי דגן: דויד שטרן הוא גיבור חי
דוברות מועצת שומרון