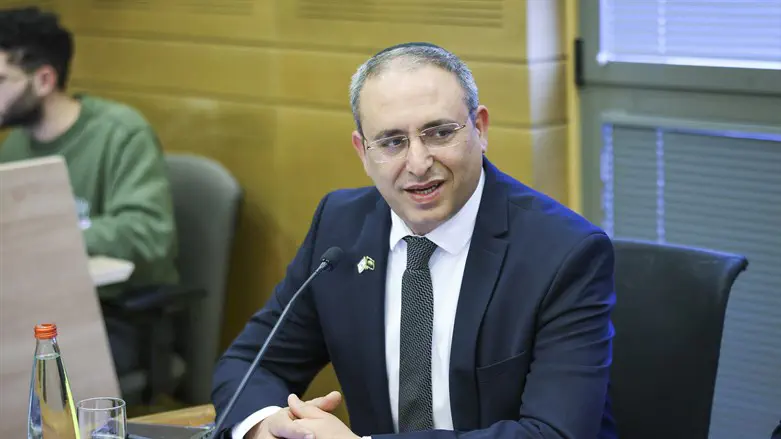 MK Eliyahu Revivo
Noam Moskowitz/Knesset Spokesperson
Coalition Chairman MK Ofir Katz (Likud) has ordered MK Eliyahu Revivo (Likud) to shelve his bill, which states that the head of the Central Elections Committee would be appointed by the Speaker of the Knesset and the committee could not be a serving or retired Supreme Court judge, and would not be appointed by the Supreme Court President as is currently the procedure.
Following the Israel National News report on the bill, MK Revivo stated: "I began to promote the bill in November, having full faith in its necessity. Despite this, in light of Coalition Chairman Ofit Katz's request, as a team player in the Likud party, and to head off the opposition's conspiracy theories, I decided to rescind the bill, and I instructed my office to do so immediately. We will continue to work together for the people of Israel."
The bill caused a stir within the political system. Opposition head Yair Lapid attacked: "Now the Likud is trying to take control over the Central Elections Committee. Why go back-handedly? Let them announce that from now on, there will not be elections in Israel unless they win and finished.
Even within the coalition, there was opposition to the bill. MK Simcha Rothman (Religious Zionism) stated that, in his opinion, "There is no need to touch the makeup of the Central Elections Committee, despite the justified criticism, and damaging."
Rothman emphasized that he opposes changes to the makeup of the Elections Committee and to the way the committee head is chosen unless they are agreed on by a very large consensus. "It's best that the vote is done behind the veil of ignorance (which will only begin in future Knessets) since this is the only issue that the MKs truly have an understandable conflict of interest. Unfortunately, the Knesset didn't act like that in the past, but I harshly criticized it then too."
According to the bill, the head of the Central Elections Committee would be chosen by the committee, which is made up of representatives of the parties. The Speaker of the Knesset would suggest three candidates, and the committee would elect one of the candidates as committee head with a two-thirds majority.
Currently, the head of the committee must be a Supreme Court Judge and is appointed by their colleagues on the court.