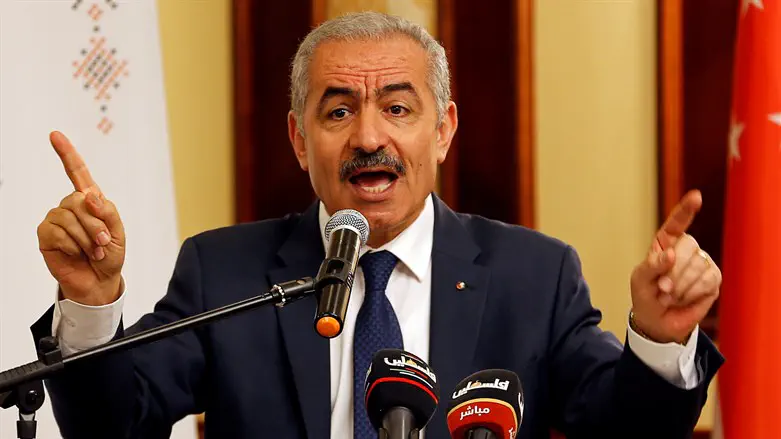 Mohammad Shtayyeh
Reuters
Palestinian Authority (PA) cabinet leader Mohammad Shtayyeh claimed that "the Palestinian people are the real owners of the land and not the Jewish people."
In a speech he delivered on behalf of PA chairman Mahmoud Abbas at the annual conference of the PLO Research Center in Ramallah, Shtayyeh said, "The conflict that arose with the beginning of colonialism does not only concern the history of Palestine, but it revolves around the history of the Palestinians in Palestine; the people and the land. Because Israel claimed that Palestine is the promised land, and it came to say that it is a disputed land, where the occupation used every form of oppression and conducted a racist policy against our people, especially against our people in the city of Jerusalem, and treated them as residents and not as an indigenous population."
"We do not need to provide proof that we are the original owners of the land, but we are working to reveal the truth so that some do not fall into the trap of the Zionist fiction, which is based on racial, settler, political and religious colonialism designed to remove our people from their land, which it continues to protect," he claimed.
Shtayyeh further said that "the Palestinian Arab people have existed on this land since the history of their Canaanite ancestors, and this people faced all the different invasions and colonial eras, and the last colonial era began with the Nakba of Palestine in 1948, and as a result the revolution broke out and the awareness of the Palestinian cause was restored in the local, Arab and international aspects, and that the Palestinian issue is the land, the people, the culture, the folklore, etc."
PA leaders have often claimed that they are direct descendants of the Canaanites. Abbas made this claim during his 2018 speech at the UN General Assembly.
Earlier that year, Abbas claimed that 5,000 years ago the Levant was inhabited by "Arab Canaanites" – whom he said were the ancestors of today's Palestinian Arabs.
Canaanites were, in fact, a tribe of pagan idol worshipers who disappeared centuries before Islam arose in the 7th century CE. Those few Canaanites who survived the 7th century BCE Assyrian conquest of the area were exiled from the territory in which they resided, as Middle East expert Prof. Nissim Dana pointed out in an interview with Arutz Sheva in 2016.