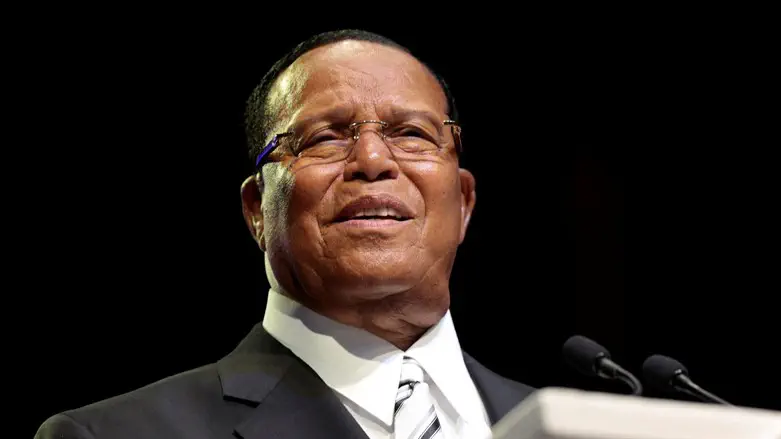 Louis Farrakhan
Reuters
The Abraham Global Peace Initiative (AGPI) called on US President Joe Biden to condemn Nation of Islam leader Louis Farrakhan's recent antisemitic remarks made during the organization's "Saviours Day" event in Chicago on February 26.
On Thursday, the Toronto-based AGPI expressed "shock and Ismay" over the latest antisemitic tirade uttered by the 89-year old Nation of Islam leader that contained numerous hateful references to Jews.
"AGPI expressed revulsion at the latest Farrakhan Speech… [that] apparently referred to age-old antisemitic stereotypes including the notions of 'Jewish power,' the Rothschild family and control of the media. In one segment, Farrakhan apparently said, 'Years ago, you could not find Jews in the media because they did not want us to know the tremendous control they had.'"
The advocacy organization noted that the full video of Farrakhan's hateful remarks is still available on the Nation of Islam's website.
The address included accusations that Jews control world governments, the media and financial institutions. Farrakhan also again referred to the Jewish community as the "Synagogue of Satan."
He further repeated his claim that Jews control Black celebrities, defending Kanye West and Kyrie Irving. He praised West as "a very great brother, a genius."
"As an organization that advocates religious freedom and strives to build on the Abrahamic tradition of unity, respect and tolerance, we are completely shocked by the antisemitic references made on 'Saviours Day.' Given the rising tide of antisemitism as described in our latest global report, we are calling on US President Joe Biden to condemn Farrakhan's apparent remarks," said AGPI CEO Avi Benlolo said.
"This is exactly why building on interfaith work such as our meeting last week with Pope Francis and previously with religious leaders in the UAE and Morocco is critical now more than ever," Benlolo added.
Farrakhan's speech, "The War of Armageddon Has Begun," was also denounced by the Simon Wiesenthal Center for unleashing a "tsunami of Jew hatred."
"The Simon Wiesenthal Center is condemning Louis Farrakhan's latest Savior's Day antisemitic and anti-Judaic diatribes during the Nation of Islam's annual conference in Chicago," SWC said in a statement.
In February, the Anti-Defamation League (ADL), upon learning of Ticketmaster's involvement with the Nation of Islam event, penned a letter to the company's CEO Michael Rapino expressing its outrage, including in the document examples of Farrakhan's antisemitic statements at past Saviors' Days.