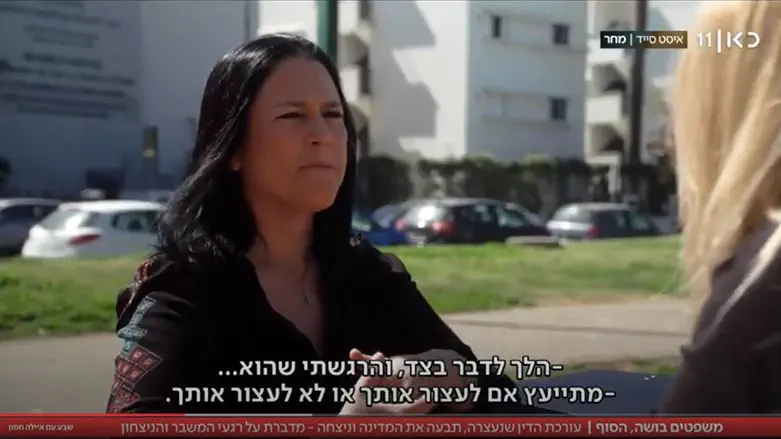 Shira Spitz on Kann TV
Screenshot
The painful story of Israeli attorney Shira Spitz has yet to enter the English-language discourse, but the Hebrew-language media has covered the shameful abuse she faced under the auspices of the state three years ago. The case was publicly known, though its victim anonymous, until a week ago, when Ayala Hasson interviewed her on Kann News. It's time English speakers heard the story.
Seeing police footage of her arrest, included in Hasson's interview, it is impossible not to be enraged and horrified at seeing what is essentially the police abduction of a law-abiding citizen –brace yourself – on her way to synagogue on a Shabbat morning with her husband and five little children in tow.
On her way to shul, Spitz saw then Attorney-General Avichai Mandelblit, a resident of the same neighborhood, walking with his security guard. Mandelblit was at the time deeply involved in a high profile prosecution of Prime Minister Binyamin Netanyahu, proceedings which many citizens then and now believe to be an abuse of prosecutorial power. As Spitz was of this view, she exercised her right of free speech and commented, in passing her famous neighbor, "Parshat Mishpatim busha" – which means "a disgraceful legal case," but was also a play on words given that the Torah reading of that Sabbath was Parashat Mishpatim (laws in Hebrew).
Before she reached the synagogue, the police pulled up beside her and asked her for her identification card, which she of course wasn't carrying on Shabbat. The policeman asked her what she had said to the Attorney-General minutes before, which she repeated for them, reminding them that her five children her with her. Unmoved, the policeman asked her to get into the car. She told them she maintains the sanctity of the Sabbath. In their back and forth, she further clarified that there was no issue of pikuach nefesh – life and death – and thus refused to get in the car.
Intriguingly, given today's Orwellian reverse use of language, a passerby asked – logically – "What is this, dictatorship? Is it forbidden for her to express herself? Is it forbidden for her to speak on the street?"
Spitz made a series of conciliatory counteroffers: to confine herself at home, to go to the station on motzai (after) Shabbat, to walk to the station by foot. The police refused, saying it would be better for her to agree to get in the car rather than be forcibly arrested in front of her children. Not wanting to traumatize her children, Spitz was prepared to do this. Then, feeling pangs of conscience, the police officer said maybe it would be permissible for her to come to the station motzai Shabbat after all, until a supervisor in phone contact with the officer refused the request.
Spitz was thus forced to desecrate the Sabbath, while being wrenched from her children and husband and suffering intense humiliation in front of neighbors and members of her synagogue in a very public area.
After being treated to a mug shot, fingerprinting and interrogation, the police released her but kept her investigation alive for eight months. Because of the humiliation and out of a desire to protect her children's reputation, Spitz and her family moved to a different neighborhood. But they considered switching countries, not wanting to live in a nation where one cannot criticize public officials.
The state paid out a 70,000 NIS cash settlement to Spitz, but did not prosecute Mandelblit, whom Spitz's husband saw signal to his guard to take some sort of action at the time of their encounter. The former Attorney General claims he did not order her arrest. Even if one gives him the benefit of the doubt about this, he was not unaware of her detention and thus allowed it to occur. Yet it is hard to accept Mandelblit's claim since only he and his security guard were aware of the incident, and the testimony of the guard at the time of Spitz's unlawful detention confirm for the record that the guard's understanding of what happened matched Spitz's understanding exactly: that all she did was utter the three words: "a disgraceful legal case".
At a time when protestors are blocking highways used by emergency vehicles or just regular working stiffs wanting to get home, imprisoning the Prime Minister's wife and her poor hairdresser, and physically accosting public intellectuals at the Kohelet Forum, the Spitz case makes very clear what is at stake in the current contretemps over judicial reform. The people shouting about dictatorship are exactly correct what the issue is; it's just that it is they who are demanding it continue.
Mandelblit is far from being alone as an Israeli counterpart to Hillary Clinton, a lawyer who thinks that laws are for the little people only. The "democracy"-loving opposition that has refused to engage in the ordinary debate over legislation that previously took place in the Knesset understands all too well that its political standing in Israel is weak and waning, so it is using every power it is still has left, institutionally and economically, to maintain nondemocratic control over a despised proletariat.
Spitz's three words "parshat mishpatim busha" potently express what is happening in Israel right now: as far as Israel's elite is concerned, there are no "mishpatim" (laws). Even though we have basic laws that allow for elections and that empower the Knesset to enact policy reforms, Israel's radical left considered this as a tolerable charade as long as they had unelected officials, like Mandelblit, who could impose the oligarchy's will.
The situation is reminiscent of the Jewish elite in the time of the prophet Jeremiah who freed their slaves as the Torah commands (in parshat Mishpatim) after six years, only to re-enslave them after having "technically" fulfilled their requirement of emancipation. Israel's right-wing majority are thus akin to runaway slaves, aggressively pursued by several former prime ministers, ex-generals, Tel Aviv high-tech monied interests and their henchmen, including Supreme Court Justice Esther Chayut and Mandelblit.
Joining the enslavers are their allies in the Biden Administration, which is helping to fund the protests to destabilize a government it detests. Capturing, then whipping, branding, hobbling or lynching fugitive slaves is a deep instinct within Biden's Democratic party, as is treating supposedly friendly nations as banana republics.
In that vein, Justice Minister Yariv Levin and Constitution, Law and Justice Committee chairman Simcha Rothman are Israel's William Lloyd Garrison and Frederick Douglass equivalents, abolitionists working assiduously to help their countrymen escape to freedom.
With Passover upon us in little over two weeks, our festival of freedom is a reminder that the Almighty took us out of the house of bondage intentionally, so that we serve Him and not Pharoah. That is why Mandelblit and his ilk did far more than desecrate the Sabbath by trampling on Spitz's freedom of expression and movement on the Holy Day. He and they desecrate His Name, as the Book of Jeremiah (34:16) says explicitly with regard to the act of re-enslavement.
In a democratic country like Israel, there is room for disagreement among political leaders on policy issues. That room is Simcha Rotman's Knesset committee chamber.
Gil Weinreich is a writer living in Jerusalem. His latest book is A Torah Guide to Personal Finance