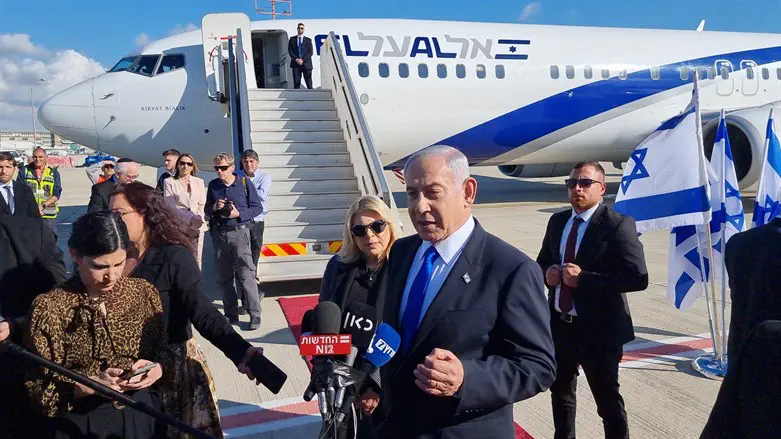 Netanyahu at Ben Gurion Airport
Hezki Baruch
Prime Minister Benjamin Netanyahu has decided to shorten his visit to Germany and to return to Israel tomorrow (Thursday) instead of Friday as originally scheduled.
The decision was made in light of recent security developments in Israel, though the precise nature of these developments has not been revealed.
Netanyahu held a security assessment with Defense Minister Yoav Gallant earlier Wednesday afternoon.
The Prime Minister's Office stated: "Prime Minister Netanyahu has been following and being updated in recent days on the security developments together with the security leadership."
Netanyahu is expected to face protests over the government's planned judicial reforms both upon his arrival at Ben Gurion Airport tomorrow night and in Berlin. The timing of his return may be changed without notice to avoid the protests at the Tel Aviv airport.
Netanyahu will meet with German Chancellor Olaf Scholz in Berlin before returning to Israel. He is expected to call on the European Union to take a harder line against Iran's nuclear weapons program after it was revealed that Iran has enriched uranium to 84% purity, not far from the 90% which constitutes weapons-grade uranium.
Last week, Netanyahu visited Italy, where he met with Italian Prime Minister Giorgia Meloni. He was meeting with members of the Jewish community of Rome at the city's main Sephardic synagogue when he was informed of the terrorist shooting attack in Tel Aviv in which three Israelis were wounded last Thursday night.