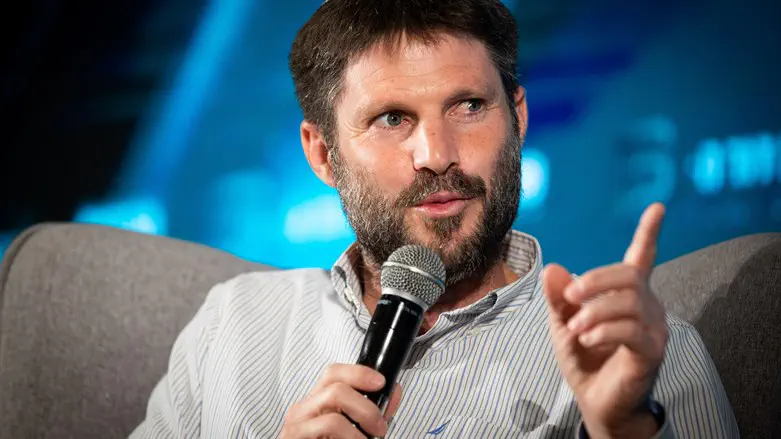 Bezalel Smotrich
Flash 90
Now that the failed SVB has High Tech Israel on its hands and knees, begging you for money, make them do the right thing. Demand hiring quotas for companies with more than ten employees so that the religious in Israel are fairly represented.
See, the Lord has called by name Bezalel, the son of Uri, the son of Hur, of the tribe of Judah. He has imbued him with the spirit of God, with wisdom, with insight, and with knowledge, and with [talent for] all manner of craftsmanship. (Exodus -- This week's Torah reading).
Five years ago, I had an interview with the head of Human Resources of an up-and-coming high-tech startup. After three interviews, a writing sample, and multiple references, this meeting was supposed to be a slam dunk.
The moment the daggers in the HR manager's eyes were set upon me, I realized that the slam dunk had become a long shot.
Instead of the standard questions, she started pelting me with Ph.D. level business scenarios that had nothing to do with the job for which I was interviewing. The "correct" answers were always up to her interpretation, which somehow I got wrong.
She rejected my job application – above the objections of the entire marketing department, which wanted to hire me.
She didn't reject me for the answers from my mouth. It was the kippa on my head.
That decision kept me unemployed for four months, unnecessarily costing the state $10,000.
Don't Let it Happen Again
A lot of observant Jews I know have similar stories. The LGBTQ, non-Jewish, and even illegal alien communities enjoy overrepresentation in the high-tech sector, in contrast.
The Haredim comprise over 7% of our population, yet only 0.6% of high-tech workers are Haredi. Go to LinkedIn and check out any Israeli group:
I am sure something similar exists for the religious Zionists. I worked with a religious Zionist.
And hesder boys, many of them hi tech geeks, have been shut out of the elite cyber unit 8200 because the army now claims it does not want to invest in those who do shorter army service. You could easily convince the hesder yeshivas to add a year to the hesder program for 8200 hesder soldiers, extend the army service part of the program for that year, work out hours of Torah learning for them every day whle they are serving and follow it by a year of Torah learning. The 8200 soldiers are grabbed up by hi tech companies at cushy salaires after their army stint so it won't be hard to convince the hesder boys to join the program.
Now that every high-tech company is begging for financial assistance, take this chance to underwrite the future of Israel by applying the same standard of fairness used for other communities.
As a condition for financial rescue, demand an affirmative action program for the religiously observant. Every company with more than 15 employees must have a statutory percentage of staff that identify as Torah observant.
This doesn't just benefit the religious. It benefits the entire nation:
Why should we pay out unemployment benefits to people who want to work? Why should we allow companies to outsource departments to Europe and America when they can hire in Israel, and enable more people to generate wealth and pay taxes.
It is estimated that 40% of non- Jewish immigrants take their benefits and leave. For those that stay, for a while, they are ten times more likely to amass the skills we pay for and eventually use them in Europe or America.
A religious Jew is far less likely to leave. In the ten years I have been in high-tech Israel, I learned HTML, JavaScript, PHP, ReactJS, SQL . . . SEO, PPC, metaphors, storytelling, humor, social media, and content creation. I will never leave. I will spend the rest of my working life improving and perfecting my skills to benefit my family, my community, my company, and as many of my brothers and sisters in Israel as I can. All religious Jews feel likewise. These are the people we want at least equally represented in the richest employment sector.
Judicial reform will enable Israel to pass more laws that take relgious scruples into consideration without the Supreme Court getting in the way.
Religious "quotas" ensure that we will have plenty of qualified people to keep our country running through these changes.
Racism is Evil
After that interview, for the first time, I was on the receiving end of racism. What a degrading feeling.
No matter how hard your work. No matter how much you try. The answer will always be no over something you don't control.
It's terrible.
Fairness should be universal. Opportunity should be open to all who are willing to make the effort.
We already apply these standards to people based on their intimate lives or how they got into the country. We have a greater moral obligation to extend this standard of fairness to those who follow the law, work for the welfare of the Jewish People and the State of Israel, and will never leave.
Under normal circumstances, such demands would be impossible.
But today Bezalel, Hashem has blessed you with a crisis. You are the Finance Minister at the right time.
Don't let it go to waste.
David Ben Horinlives in Afula with his family, millions of sunflowers, and Matilda, our local camel. David's Israeli startup, Center Stage Marketing, is a lean marketing agency for startups and small businesses that creates and promotes SEO optimized ROI-driven to the right audience on LinkedIn to make your business the star of the show.