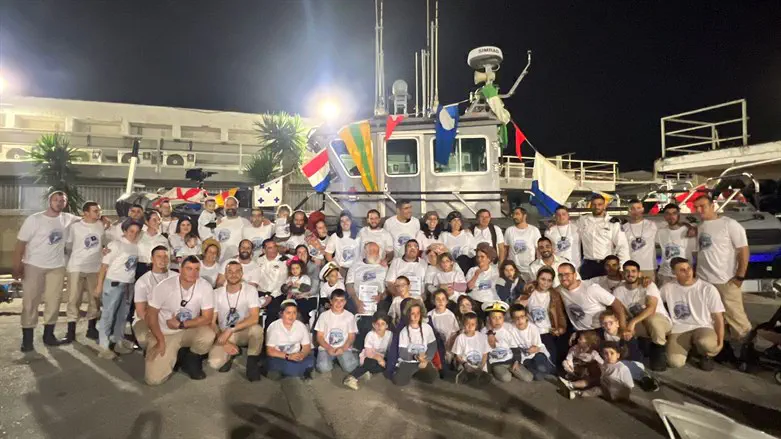 The Yaniv family at the Ashdod Naval Base
Courtesy
During a celebratory ceremony on Monday, soldiers at the Ashdod Naval Base who excelled in their positions were awarded certificates of excellence.
An emotional moment occurred during the ceremony when the certificate belonging to Hallel Yaniv, who was murdered alongside his brother Yagel in a terror attack two weeks ago in Huwara, was presented to his family.
According to his family, Hallel was notified that he was chosen to be granted the award and was very happy when he understood that his work was significant.
Ashdod Naval Base Commander Col. Eli Socholitzki told Hallel's family: "We are at a happy event, but in the state of Israel, there is sometimes sadness mixed with joy. We are here with a family that I wish the command, and I would only meet for the first time. Hallel and Yagel, his brother from the Yaniv family, were killed in a shooting attack in Samaria.
Hallel left the unit a week beforehand and was chosen as one of the Ashdod region's excellent soldiers before he was killed. We decided, although he ended his position in the unit, to award him this certificate since he was a special person, an imprint of the place from which he came."
הלל יניב הי"ד
צילום: דובר צה"ל
Hallel Yaniv served as a combat sailor, in the position of a deputy commander of a Devora class patrol ship, in the 916 patrol squadron, as part of the Hesder program, which combines Torah study and IDF service.
The IDF stated: "Through his idealistic personality and the way he carried out his job, Hallel was an example of excellence for his soldiers and colleagues, and for that reason, he was chosen to receive this award several weeks after he fell."