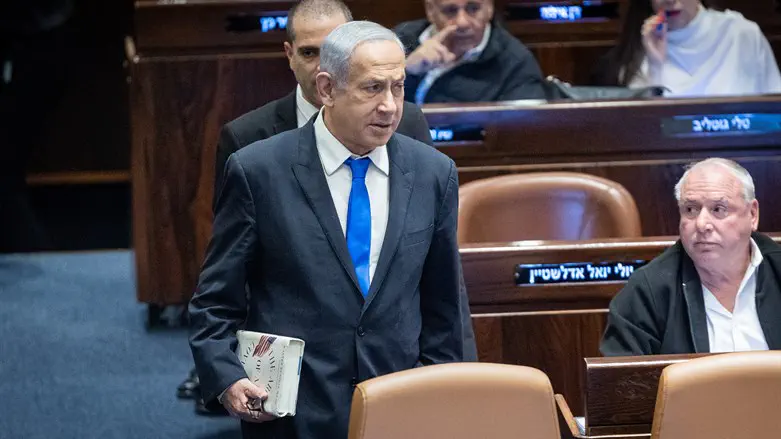 Benjamin Netanyahu
Yonatan Sindel/Flash 90
The Knesset on Monday evening approved the first reading of the "Incapacitation Law", which would prevent the Attorney General from declaring that a Prime Minister is unfit for office.
61 MKs supported the proposal and 51 opposed it.
The bill stipulates that a Prime Minister can only be declared unfit for office as a result of physical or mental inability to carry out his duties, and only by the Prime Minister himself or by the vote of three-quarters of the members of the Cabinet.
Should the Prime Minister object to putting the decision to the Cabinet, it would go to the Knesset, where at least 90 MKs would have to approve the move.
Coalition chairman MK Ofir Katz (Likud), who initiated the proposal, said, "In a democracy, those who put us here, those who elected us to sit on these important seats, are the citizens of the State of Israel, they are the only ones who put us here. There is a clique here, an elite, who are sure that they are worth more, but in the ballot box every vote is equal."
"They see that the people want Netanyahu as Prime Minister and are trying to oust him. We will not allow this to happen. You are shouting about democracy? This law is democracy," he added.
Opposition leader MK Yair Lapid blasted the approval of the law, writing on Twitter, "The Incapacitation Law has now passed in the plenum. No concern for personal security, no free education, no treatment of the cost of living, no response to housing prices. The economy and security are collapsing. The law is unnecessary - Netanyahu is already incapacitated."