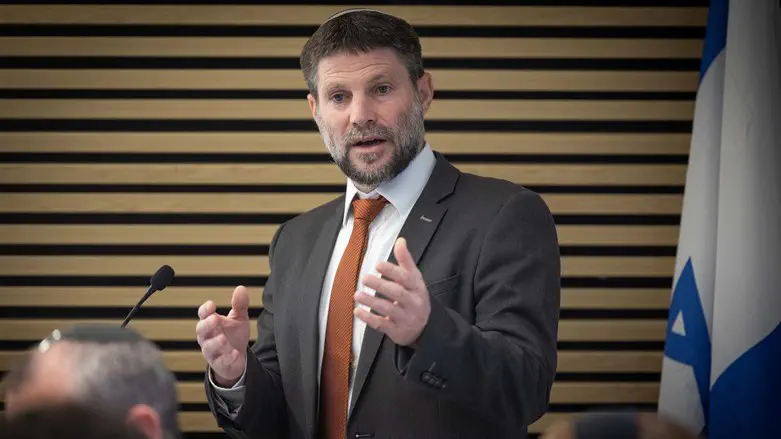 Bezalel Smotrich
Yonatan Sindel/Flash90
Senior officials from the Biden Administration have refused invitations to address the Israel Bonds annual conference next week over the appearance of Israeli Finance Minister Bezalel Smotrich at the conference, the Forward reported.
It claimed the administration is furious with Smotrich for a statement he made calling on the Arab village of Huwara Samaria to be "wiped out" following the murder of two Jewish brothers in the village last week. State Department Spokesman Ned Price called Smotrich's comments "irresponsible, repugnant. and disgusting."
Channel 12 News reported that US Ambassador to Israel Thomas Nides said of Smotrich: "I am really angry with him. He is a fool. He has a flight to Washington, and if I could, I would throw him off the plane."
On Saturday, Smotrich clarified his remarks, saying: "It wasn't the correct word, I misspoke." He added: "The statement was made in the heat of emotions. I'm discomfited by the need to clarify and that there are those who think that I support harming innocent civilians."
According to the report, the administration officials declined to attend the conference because Smotrich's appearance was not cancelled. However, Israel Bonds representatives have stated that the officials had refused to attend the conference long before the controversy surrounding Smotrich's comments began.
While there have been reports that the administration is boycotting Minister Smotrich following his comments on Huwara, no such policy has been announced.
Several left-wing American Jewish organizations, including J-Street and Americans for Peace Now, petitioned the State Department to bar Smotrich from entering the US in light of his comments. The petitioned received no response.
Israel National News - Arutz Sheva has contacted the State Department several times about the administration's position on Smotrich. The State Department has refused to provide a direct answer to the question as to whether Smotrich is considered 'persona non grata.,' as has been reported, or if the State Department has decided not to assist Smotrich in obtaining a diplomatic visa to visit the US.
An administration official said that the diplomatic tensions between israel and the US over Smotrich's comments have been blown out of proportion by the media, and that "there is no intention to boycott this or that minister in the Israeli government. No one will prevent the granting of a diplomatic visa either. If the Israeli minister had requested a meeting with his counterpart - it is likely that one of these meetings would have occurred. As far as we know, no meeting with any government agency was requested and therefore there are no meetings."
An Israeli political official gave his own assessment, saying: "The messages allegedly directed at Smotrich are directed by the administration towards Prime Minister Netanyahu over the judicial reforms. He is looking for an address and the Minister of Finance with his statement simply gave the administration the opportunity for this reprimand."
Smotrich will visit the US for just one day to attend the conference.