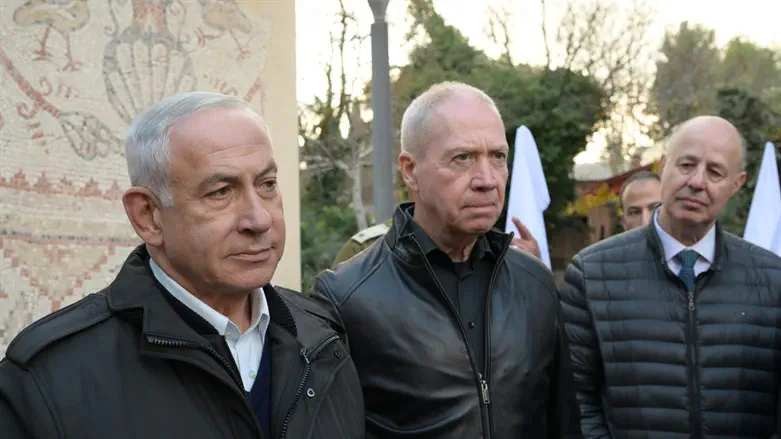 Netanyahu, Gallant, and Hanegbi in the north
Amos Ben Gershom/GPO
The IDF is reducing its counterterrorism activity in Judea and Samaria following the emergency summit which was held in Aqaba, Jordan today between Israel and the Palestinian Authority, Yediot Aharonot military correspondent Yossi Yehoshua reported.
A senior security official said: ''We are giving it a chance. We will only act in the face of ticking bombs or an urgent operational need.''
MK Gideon Sa'ar (National Unity party) criticized the government's decision on his Twitter account, writing: "Dear followers, try to guess: how would the opposition have reacted to such a move during the [previous] 'change government?' Fully right wing? As if."
The summit, which was mediated by host country Jordan, as well as the US and Egypt, was aimed at reducing tensions after a series of terrorist attacks in Jerusalem in which 11 Israelis were murdered and a growing number of battles between IDF forces and terrorists in Judea and Samaria, ahead of the Muslim holy month of Ramadan.
Arabic media reported that the summit is considered the first platform for revitalizing the political process. It is also reported that the secret and undeclared goals of the summit are to bring about the end of the armed and illegal groups in the Arab cities in Judea and Samaria and to prevent their spread to other cities.
Israel was represented at the summit by National Security Adviser Tzachi Hanegbi, Director Ronen Bar, the director of the Foreign Ministry, Ronen Levi, and the Coordinator of Government Activities in Judea and Samaria Ghassan Alian.
The last time a similar meeting between Israeli and Palestinian Authority officials took place was in 2012, at a meeting which was also held in Jordan.
The PA had additional demands as part of the summit, which included the cancellation of the decision to normalize nine Jewish outposts in Judea and Samaria and the complete halt of all Jewish construction in Judea and Samaria. Israel has reportedly not agreed to these additional demands.