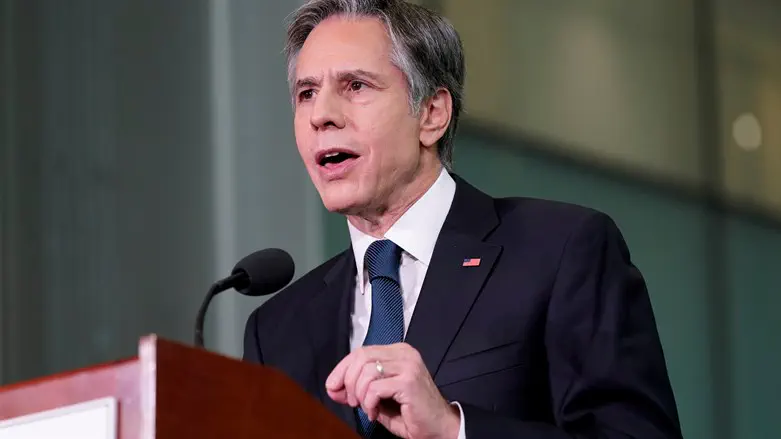 Secretary of State Antony Blinken
Reuters
The US Treasury Department announced on Friday to mark the one-year anniversary of the invasion of Ukraine that it would implement "one of its most significant sanctions actions to date" on parties supporting Russia's war effort.
The far reaching sanctions will reportedly target the Russian metal and mining sector, its financial institutions, its military supply chain, and international companies and figures who provide Moscow with means to subvert existing sanctions.
The Biden administration also announced further measures on Friday to shore up the Ukrainian government and target those aiding Moscow as the war drags on with no sign of ending soon, CNN reported.
The moves by the US government are seen as a means to plug gaps in the existing sanctions regime enacted since Russia invaded Ukraine in February 2022. They are meant to target "key revenue generating sectors in order to further degrade Russia's economy and diminish its ability to wage war against Ukraine," a White House fact sheet said.
The new sanctions will impact over 200 individuals and entities. These will include Russian and third-country parties located across Europe, Asia, and the Middle East that are aiding Moscow's war effort."
The US State Department also added sanctions on a significant number of Russian officials and entities connected to the war. It will take "steps to impose visa restrictions on 1,219 members of the Russian military, including officers, for actions that threaten or violate the sovereignty, territorial integrity, or political independence of Ukraine," US Secretary of State Antony Blinken said in a statement.
"Three Russian military officials – Artyom Igorevich Gorodilov, Aleksey Sergeyevich Bulgakov, and Aleksandr Aleksandrovich Vasilyev – will be blocked from entering the US due to their involvement in gross violations of human rights perpetrated against Ukrainian civilians and prisoners of wars," Blinken added.
The US Commerce Department also said on Friday that it will implement "several export control actions, listing nearly 90 Russian and third country companies, including in China among other countries, on the Entity List for engaging in sanction evasion and backfill activities in support of Russia's defense sector."
"Our economic sanctions, export controls, and tariffs announced this week, in coordination with the G7, demonstrate that we will continue to work with our allies and partners to increase the pressure on President Putin, make it harder for him to wage his brutal war, and continue degrading the Russian economy's ability to fuel continued aggression," Blinken said.
(Israel National News' North American desk is keeping you updated until the start of Shabbat in New York. The time posted automatically on all Israel National News articles, however, is Israeli time.)