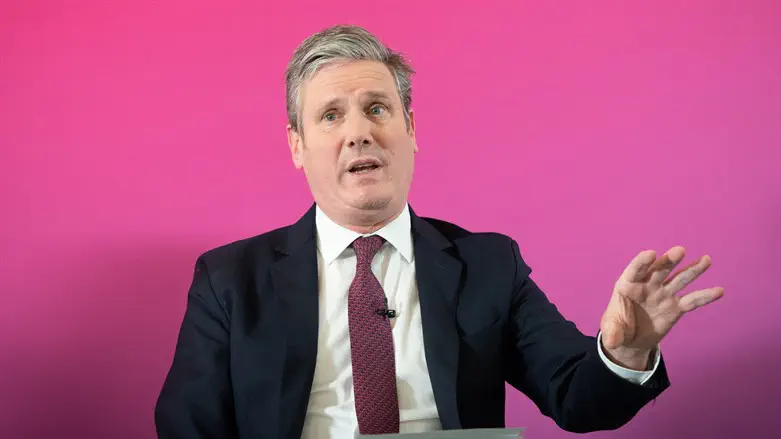 Labour leader Keir Starmer
Reuters
A new British poll found that only 23 percent of voters don't support Labour leader Keir Starmer's move to prevent former leader Jeremy Corbyn from running in the next general election as a member of the party, the UK Jewish News reported.
The survey, conducted by Savanta for the Politics Home website, polled 2,144 people, with 55 percent supporting Starmer's decision to stop Corbyn from being the party's candidate in his Islington North constituency.
Earlier in the month, Starmer ruled out letting Corbyn return, describing how Labour has rehabilitated itself under his tenure and "we are not going back."
Corbyn currently sits an an independent member of parliament after being suspended by Labour over criticism of a report into the party's move to tackle internal antisemitism.
He had been hopeful that the party would let him back in so he could be a Labour candidate in the next election, BBC News reported.
"Let me be very clear about that: Jeremy Corbyn will not stand for Labour at the next general election, as a Labour party candidate," Starmer told reporters at an event in East London.
"What I said about the party changing, I meant, and we are not going back, and that is why Jeremy Corbyn will not stand as a Labour candidate at the next general election."
Corbyn was suspended as a Labour MP after attacking a 2020 Equality and Human Rights Commission report into multiple allegations of antisemitism within the party, claiming that internal antisemitism had been "dramatically overstated" in a campaign to discredit his leadership.
In February 2022, party insiders met to discuss ways to stop Corbyn from standing for the party in the seat he has held since 1983 in Islington North.
When queried about whether Labour's ban on Corbyn would change how they planned to vote, 28 percent replied that it would, with 16 percent saying it would make them more likely to support the party, and 12 percent said it would make them less likely to vote Labour.