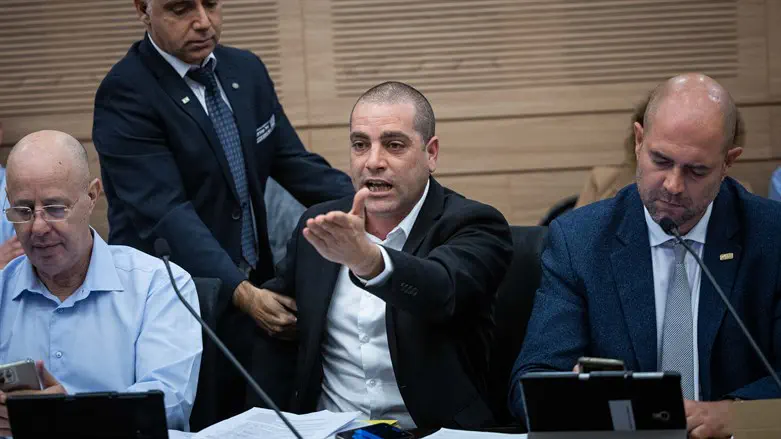 MK Ofir Katz
Yonatan Sindel/Flash90
A bill which would strip terrorists of their Israeli citizenship passed its second and third readings on Tuesday and will be brought for a vote in the Knesset tomorrow (Wednesday)
The bill would allow the Interior Minister to revoke the citizenship of Israeli Arabs who receive payments from the Palestinian Authority after committing terrorist attack against Israeli citizens or security forces. The terrorist would be deported either to the Palestinian Authority in Judea and Samaria or to the Hamas-ruled Gaza Strip.
According to the wording of the bill, the PA's payments to terrorists create a relationship between the PA and the terrorist, allowing for them to be deported to the PA. The Interior Minister will have 14 days to decide to revoke the terrorist's citizenship and deport him or her.
Coalition chairman MK Ofir Katz, who proposed the bill, said that the recent spate of terrorist attacks in which 11 people have been murdered in the last three weeks demonstrates the need for the legislation. "The responsibility to prevent the next attack is on us, not on any jurist. Anyone who intends to oppose what we have brought here, after all the balances we have [introduced into the bill], is welcome to explain it to the bereaved families and the people of Israel. The blood that was spilled, the enormous pain from it accompanies me all the time, and I feel from the bottom of my heart that such laws are our true mission as public representatives in the Israeli Knesset."
The bill has support from opposition MKs as well. MK Ze'ev Elkin (National Unity party) said: "I welcome the joining of forces between us and the members of the coalition in this matter. We are all united in the war against terrorism, the sooner the law applies, the more we can prevent further incidents of celebrations on the occasion of the release of terrorists in Israeli territories. Especially at like these it is important to remember that there is a way to fight terrorism."