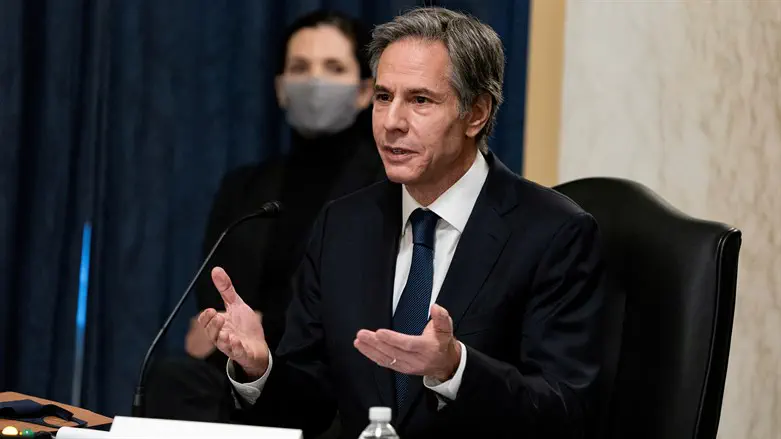 Antony Blinken
Reuters
US Secretary of State Antony Blinken is considering meeting top Chinese diplomat Wang Yi at the Munich Security Conference starting this week, in what would be their first face-to-face talks after the United States shot down what it said was a Chinese spy balloon and other flying objects, sources said on Monday, according to Reuters.
Blinken earlier this month postponed a planned visit to China in the wake of the discovery of the surveillance balloon.
Speaking to reporters after the postponement, Blinken said China's action was "a clear violation of US sovereignty and international law...an irresponsible act."
One US official told Reuters on condition of anonymity on Monday that a meeting between Blinken and Wang was possible at the Munich conference, which runs from Feb. 17-19. A second source also said it was possible but that nothing had been confirmed.
Officials and analysts say the March G-20 Foreign Ministers meeting in India would be another opportunity, since both Blinken and Chinese Foreign Minister Qin Gang are expected there.
At a news conference with her Japanese and South Korean counterparts, US Deputy Secretary of State Wendy Sherman said she had nothing to announce about a potential Blinken-Wang Yi meeting in Munich but did not rule it out.
"As Secretary Blinken has said consistently, and as he has said to Wang Yi - as have all said to the PRC - we are open to dialogue when it is in our interest to do so and we believe the conditions are right," she said, according to Reuters, referring to the People's Republic of China.
"I know there's been a report about a potential meeting in Munich, but I have nothing to announce today."
China criticized the US for downing its surveillance balloon, saying it reserves the right for any necessary reaction to the incident.
The use of force against the balloon, which China said is for civilian use and entered the US accidentally, was an "obvious overreaction" and violated international standard practices, China's Ministry of Foreign Affairs said.
The White House has downplayed any drastic effect the incident would have on US-China relations.
Asked last week if the balloon incident weakens US-China relations, President Joe Biden replied, "No. We made it clear to China what we're going to do. They understand our position. We're not going to back off."