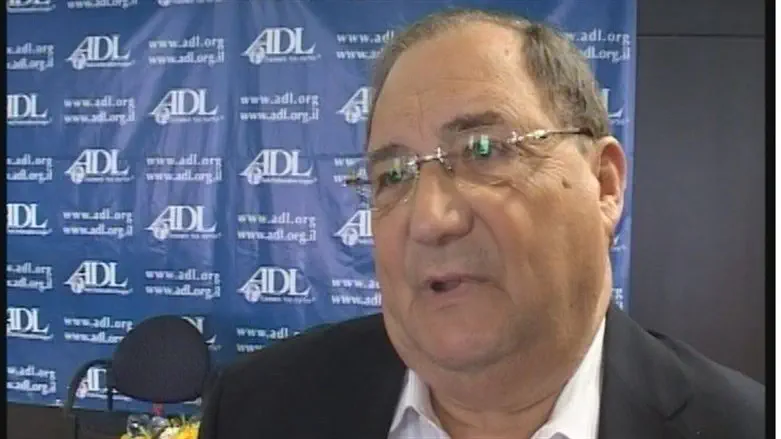 Former ADL National Director Abe Foxman
Yoni Kempinski/Israel National News
Abe Foxman, a former head of the Anti-Defamation League, has called on Jewish organizations in the United States to boycott Finance Minister Bezalel Smotrich, head of the Religious Zionism party, and National Security Minister Itamar Ben-Gvir, head of the Otzma Yehudit party, justifying his stance by claiming that they "don't have any respect for Diaspora Jewry."
In an interview with The Jerusalem Post, Foxman said that he had told Prime Minister Benjamin Netanyahu of his opposition to the government's proposed judicial reforms, warning him that, "If you continue in this way, you're not going to have our support." He also claimed that within the Likud party itself there are those staunchly opposed to the reforms to the point that they have actually joined the anti-government protests.
"I'm encouraged by the broad response of Israeli society," Foxman added. "There are tens of thousands of Israelis on the streets of Tel Aviv, Haifa, Jerusalem, and Beer Sheva ... This doesn't usually happen, this element of society speaking out," he asserted, despite the fact that the Black Flag protests against Netanyahu were a regular feature on Saturday nights in recent years.
Foxman applauded President Herzog for his calls for "unity and dialogue" and criticized the Prime Minister's response.
"Bibi ... isn't bending at all. His response to President Herzog's call for unity and dialogue essentially said, 'I'm not willing to freeze anything.'"
Foxman also claimed to have received great support for speaking his opinions, saying that "prominent pundits [are] openly saying to Diaspora Jews: 'Speak up, let's hear your voices.'
"The fact that Bibi feels the need, every day, to defend Israel abroad, in the U.S. media, tells me that there is movement," he added.